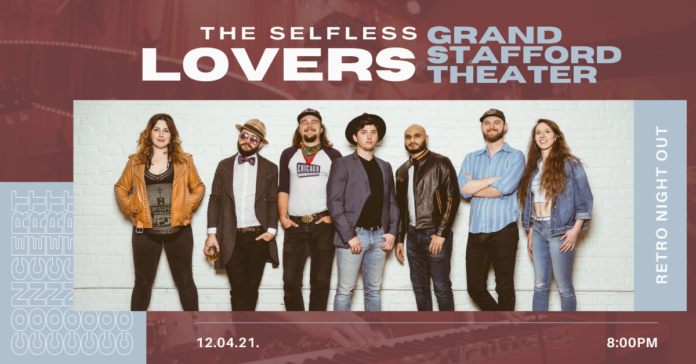 If you've ever wondered what you end up with when you blend rock n' roll, blues, and The Rolling Stones together, here's your chance to find out! The Grand Stafford Theater will present The Selfless Lovers with guest Jon Couch on Dec 4 at 8 p.m.
You may have never heard of a band whose sound fits the description of piano-driven rock n' roll. Hailing from Austin, The Selfless Lovers fuse together tones of classic rock, soul, blues and southern rock to create a unique sound that will get you dancing in no time. According to their website, lead singer Nik Parr can even play saxophone and piano simultaneously.
After releasing three EP's, the five man band released their 12 track album "When The Bars Close" in the spring of 2021. With influences from The Rolling Stones, Bruce Springsteen, Rod Stewart and more, the band hopes their music will stir their audiences' affections for rock n' roll.
Jon Couch and the Cushions match the energy with a different sound in a more contemporary, upbeat take on southern rock, which he calls his "couch tunes." He'll help you forget your week and have you singing along as soon as you catch on to the words.
You can purchase tickets online for $10 or at the door for $12 to experience this retro concert night.