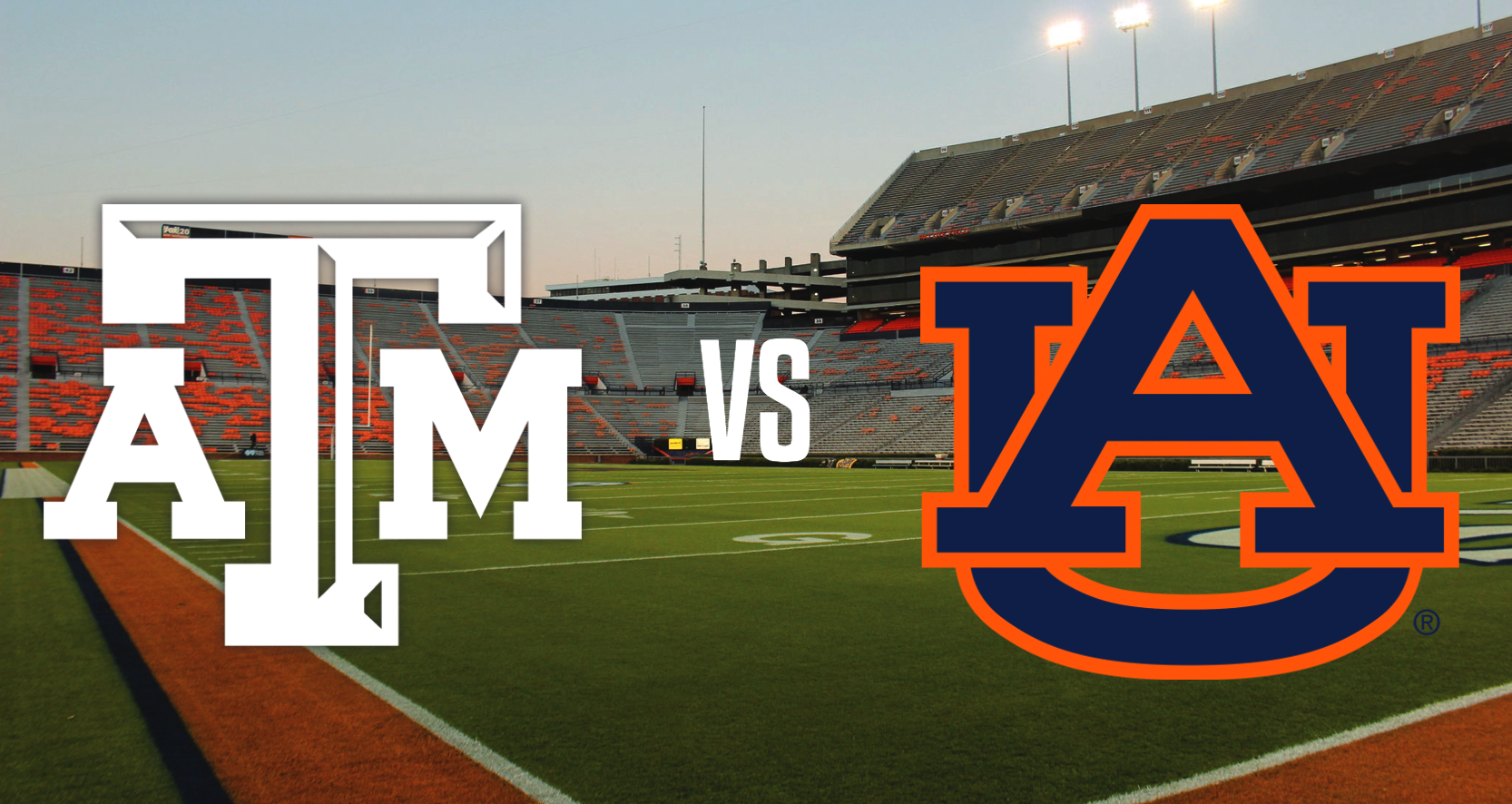 [et_pb_section admin_label="section"][et_pb_row admin_label="row"][et_pb_column type="4_4″][et_pb_text admin_label="Text" background_layout="light" text_orientation="left" use_border_color="off" border_color="#ffffff" border_style="solid"]
Seven Hundred Eighty Miles. That's the distance the Aggies must travel to get to Auburn, Alabama. Three days. That's how long Trevor Knight has to think about whom he is going to throw his first touchdown pass of the game to. That's how long Justin Evans has to think about his next interception. That's how long Myles Garrett and Daeshon Hall have to think about sacking Auburn quarterback Sean White.
Last season going into Auburn week late in November, the Aggies were ranked #19 in the country coming off an impressive debut of Kyler Murray in the starting quarterback spot. Auburn was on a two game losing skid, having a less than impressive season. To say the Aggies were confident is an understatement.
And then, on November 7, 2015, Auburn shocked the Aggies winning 26-10 at Kyle Field. The Auburn defense intercepted Kyler Murray three times. It was as if the Aggies were reliving the game they had played against Alabama earlier in the season. Different quarterback but the same result, numerous interceptions and a loss.
Now, the Aggies will head to Auburn for an SEC battle as both teams open conference play for the season. Auburn is currently 1-1, coming off a blow out win against Arkansas State. The Tigers also were narrowly defeated by the #2 ranked Clemson Tigers, 19-13 to open the season. The Aggies are 2-0 for the fourth consecutive year and will look to extend that streak on Saturday.
The game will kick off from Jordan-Hare Stadium on Saturday in Auburn, Alabama at 6 p.m. This will be the first road game for the Aggies this season and will be aired on ESPN.
Elsewhere in Aggieland, the ladies of Aggie Soccer and Volleyball are working hard.
The Aggie Soccer team, coming off of back-to-back elite eight appearances, are looking to extend that streak. The ladies have opened the season 5-2 and will look to improve on that against Georgia on Friday September 16 at Ellis Field in College Station at 6 pm, aired on the sEC Network.
Aggie Volleyball has begun the season 6-3, and will be in action in Austin against the Longhorns of Texas on Wednesday Sept 14 at 7 pm. That game can be caught on the Longhorn Network.
[/et_pb_text][/et_pb_column][/et_pb_row][/et_pb_section]