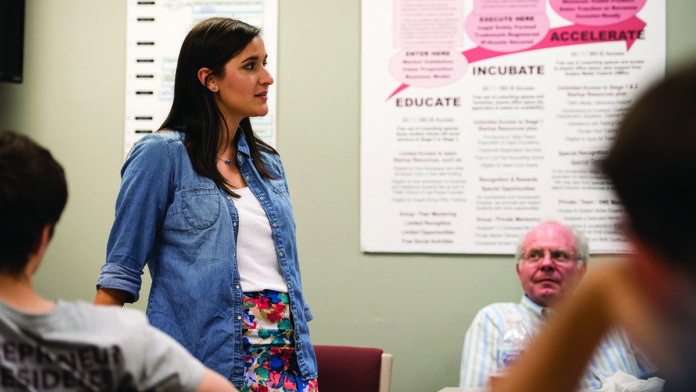 Are you a new student, motivated but not sure what steps to take next? Are you a graduating senior who feels like time is flying by, and you don't know how to stop and plan out your next move? Wherever you fall on that spectrum, you can still be an entrepreneur. Find answers to all your business and entrepreneurship questions at the Startup Aggieland Season Premiere from 6-9 p.m. on Sept. 9!

Held at the McFerrin Center located at 1700 Research Parkway in College Station, Startup Aggieland's Season Premiere is an opportunity to interact with other entrepreneurs and meet McFerrin Center mentors of the Startup Aggieland community. Hear from other entrepreneurs in the Summer Incubator Program about how the McFerrin Center can help you launch, pursue, and explore your future. One extra perk will be meeting the McFerrin Center's newest cohort of startups working in the Business Incubator. But even better: this event is free of charge, and so is Startup Aggieland!

A Texas A&M University "student-run business accelerator," Startup Aggieland was created to be a "cross-college, collaborative community [that] invites students from all majors and classifications to explore entrepreneurship, and provides valuable resources, including workspace, mentoring, and networking opportunities, free of charge." Startup Aggieland will appeal to any Texas A&M student who is interested in business, entrepreneurship, innovation, or who already has a business, regardless of their major.

Startup Aggieland is unique in that it is a cross-campus community for entrepreneurial students. Lauralee Hughes, Assistant Director of New Ventures at the McFerrin Center, comments that the difference between Startup Aggieland and other entrepreneurial programs on campus is that Startup Aggieland "reaches students from all across the Texas A&M Campus…One of the differentiating factors is that we are experiential, so our programs are not tied to course credit. What we offer is a real world immersion, entrepreneurial experience for those students that are wanting to learn more about the world of entrepreneurship, and specifically those who are looking to take their business ideas forward and turn them into companies." According to Hughes, the goal of the premiere is not just to welcome students and mentors back to campus, but to also let them know Startup Aggieland has exciting things planned for the fall semester. "The big takeaway," says Hughes, "is really helping them better understand the different kinds of opportunities out here at Startup Aggieland and the different ways they can engage with our program to get the experience they're looking for."

Don't worry about feeling lost anymore: Startup Aggieland with the McFerrin Center can help you manufacture the tools you need to shape your future. The event is totally free, but you do need to RSVP on the McFerrin Center's website. There will be hors d'oeuvres, and a cash bar will be available. 
Learn all the ways Startup Aggieland can help you launch, explore, and pursue your business goals from 6 p.m. to 8 p.m, Monday, Sept. 9!
Visit http://bit.ly/StartupAggieland2019 to register for free and learn more!