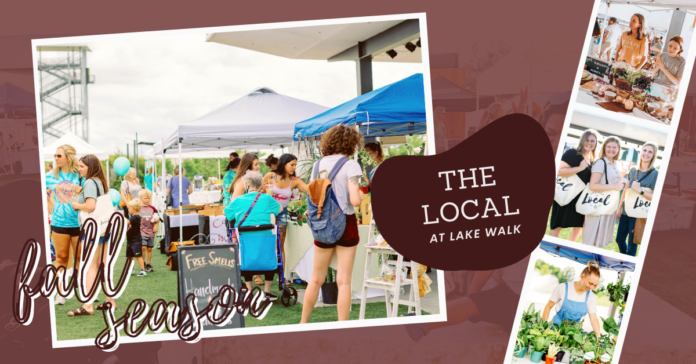 Often it's the unique hidden gems that spark the most joy in the belongings that you choose to surround yourself with at home, and it can be difficult to find these one of a kind, high quality pieces. But at Lake Walk's outdoor market, The Local, BCS artisans, farmers, crafters, and makers gather in one place to share their work, making it one of Bryan's greatest hubs for handmade goods. Every Tuesday for 12 weeks each fall and spring, The Local hosts dozens of vendors from 4-7 p.m. The fall season is now in full swing and will continue until Dec. 7!
This perfect-for-fall outdoor event occurs on the turf area next to the Lake Walk Pavilion, making a sweet backdrop for a photo with your friends and all the amazing offerings. Rain or shine, if it's Tuesday afternoon, the market is open and totally free to attend. You can win giveaways, listen to music, and even take part in a few activities as you shop. And bring your furry friends (a leash is a must). Why not come and browse, and then take a long walk around Lake Atlas, soaking up some warm sunshine as the temperatures start nosing down into perfectly comfortable?
Here you'll find honey fresh from the hive from Busy Bee Apiary & Apothecary. Hand-carved holiday gifts from Corner Tang Wood Crafts. Elegant cakes and gooey pastries from Moonstruck Pastry & Coffee Co. Dreamy greens from Grow 'Em Plant Co.
The list goes on to include about 50 local small business vendors and food trucks, and rotates frequently. The weekly lineup is announced on Facebook, Instagram and in the newsletter, though many vendors return week to week. You can sign up to receive The Local's email newsletter online.
The Local welcomes new vendors to highlight their craft, and hopes to use their event to help local businesses succeed and grow. You can apply through their website to host a booth and join the team.