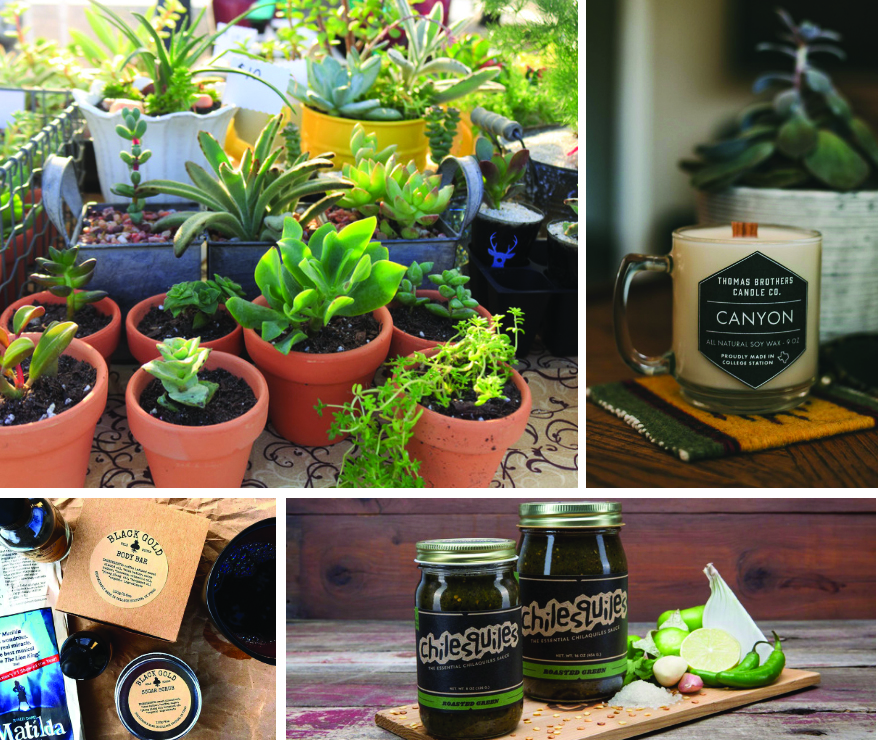 The word "local" may have become a buzzword these days, but we sure hope the trend will stick around a while. With so many products being sourced internationally, it's special to have something made right here in our hometown.
Named for the trend it represents, The Local Weekly Artisan Market is returning on September 25. Established last fall, The Local is relatively new to the BCS area. It began as a partnership with the Brazos Valley Farmers' Market and since then has transitioned into predominantly an artisan craft market. This fall will be the third season of the market and nearly 30 vendors will be participating.
What makes The Local different than other markets is that it's a true artisan's market rather than a farmer's market. So you won't find produce or meal staples, but you will find handmade products of high quality craftsmanship. Walking through this market is a treat that will rejuvenate your spirit. Whether it be the aroma of freshly cut flowers, the sight of intricately designed macrame, or the tempting taste of the sweets that line the tables, your senses will be indulged and enlivened.
The market meets every Tuesday from 4 p.m. until 7 p.m. at Lake Walk Town Center, rain or shine, through December 11. Each market is unique and may feature food trucks or live music by local artists from time to time. The first market will feature The Craft Pig and Frios Pops Aggieland. Kate Chapman, a Lake Walk partner, says her favorite thing about The Local is "seeing everyone come out to enjoy time at Lake Walk and watching customers return weekly to find their favorite products."
It's the perfect spot for all ages, including the kiddos. The little ones will enjoy the large plots of lush green grass while the parents are free to peruse the products while keeping an eye on the youngsters. Whether you bring your friends or fly solo, it's a great place to enjoy some quality time with others or bask in the "me time." We could all use a little more of that!
If you need ideas to kick start your holiday shopping or you need a simple gift for your neighbor, this is the place to go. There are a wide variety of products available from something yummy for your pup to handmade jewelry to personalized leather work.
Don't miss out! Come on down and be a local with us!