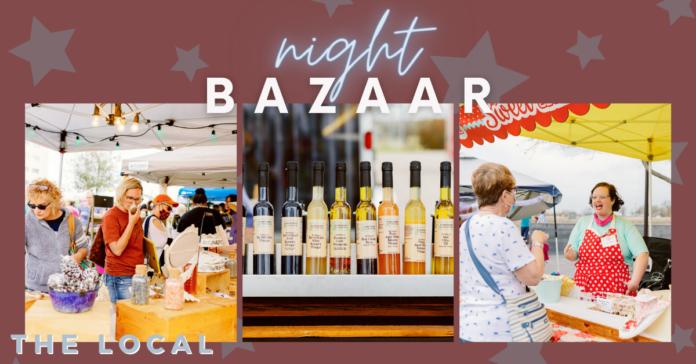 We all love to go shopping, but during a hot Texas summer, going to an outdoor market can feel like spending a day on the sun. Luckily, The Local's Night Bazaar on July 23 from 7-10 p.m. gives shoppers a chance to browse and buy from a huge selection of local vendors without getting a sunburn.
The Local has been hosting their community market every spring and fall since 2017. They have grown substantially since then, sometimes featuring as many as 50 vendors at a single market. All the staples of a classic farmers market can be found at The Local, from homemade soaps and candles to freshly made street foods like tacos and pizza and so much more. On top of all the great vendors, The Local is known for having live music, themed activities and giveaways.
The Night Bazaar works just like their seasonal markets, but rather than being held in the afternoon, it kicks off as things begin to cool down. Such a wide variety of food and crafts to purchase makes The Local's Night Bazaar the perfect summer date-night idea. The venue can't be beat for quiet beauty as it is situated next to Lake Walk Town Center framed by Lake Atlas behind it. It's the perfect place to catch the sunset, especially from the height of the Observation Tower's 75 feet, giving visitors a chance to see one of the most beautiful views Bryan has to offer. Be sure to check The Night Bazaar's Facebook page for exact details on vendors as the date gets closer. You can also sign up for their newsletter so you'll never miss another update!
You'll find Lake Walk Town Center at 4107 Lake Atlas Dr in Bryan. As always attendance is free, so bring the whole family out for a night of fun!