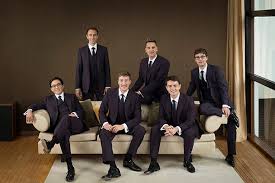 Right on the heels of Texas A&M OPAS's electrifying A Cappella Live! Show — which featured some of the most notable names in the scene — comes another great a cappella performance at the Rudder Theatre. The King's Singers, Great Britain's premiere a cappella group, will be performing next Thursday, Feb. 27 at 7:30 p.m., so if you weren't able to get your fill at A Cappella Live!, come and check out this Grammy Award-winning group!

Formed all the way back in the 1960s at King's College in Cambridge, England — where the group got their name — The King's Singers are an acapella ensemble of 6 performers. What separated The King's Singers from their peers back when they were formed was their versatility; they would perform pieces from the Middle Ages alongside popular hits from the present.

The modern lineup continues this tradition of versatile excellence, performing and composing pieces with some of the most talented musicians and writers of their time. While the members of the group have shifted gradually over the sixty some years since their formation, the current lineup travels all around the world, performing hundreds of concerts per year, and their charity, The King's Singers Global Foundation, supports their education outreach and their work with young, upcoming composers.

Sporting consistently great shows this season, the MSC OPAS at Texas A&M doesn't appear to be slowing down any time soon with The King's Singers.
If you're interested in picking up tickets, seats range from $30 – $56, and you can order them online at https://bit.ly/31Tz1fi.