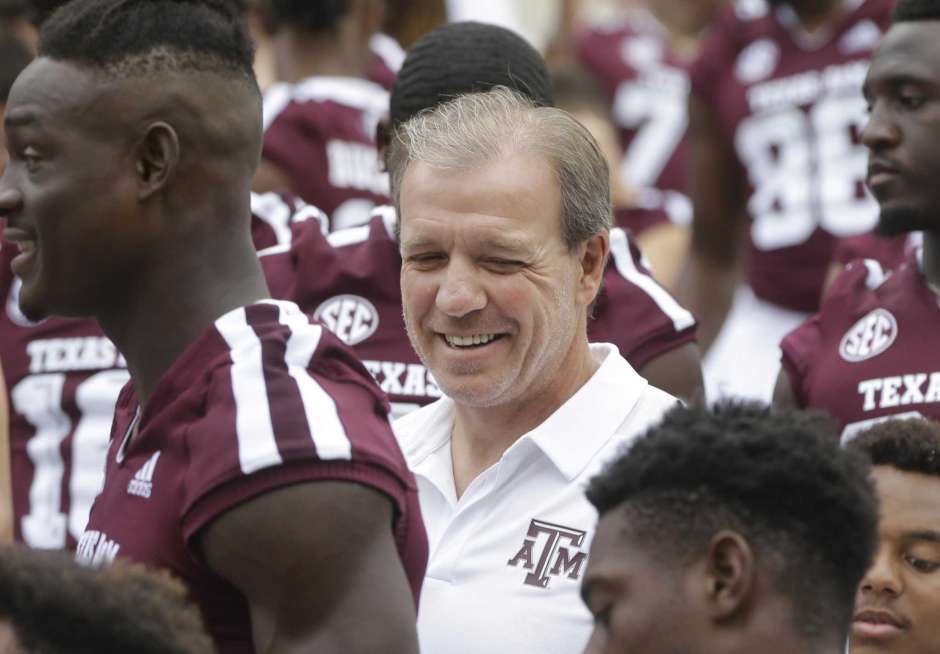 In recent years, Texas Aggie Football has been mediocre at its best. Though the team held positive win-loss records during the 2012 – 2016 seasons, the Aggies remained stagnant with a consistent yet disappointing 8-5 record for the last three of those years. It was no secret in the NCAA football world that Head Coach Kevin Sumlin's job was at stake during the 2017 season.
To prepare for the upcoming make or break season, Sumlin enlisted what college football insider Shehan Jeyarajah considers one of his best recruitment classes. Listed as the No. 9 recruitment class by national college rankings, Texas A&M athletic director Scott Woodard and Aggie fans all across the country had high hopes for the 2017 season. Unfortunately, the tragic ending to the season opener against UCLA served as a precursor for what was to come.
In the days leading up to the season ending LSU game, it is heavily speculated by reputable college sports reporters that regardless of the outcome of said game, Coach Sumlin's time in Aggieland would be coming to a close. Usher in the Jimbo Era!
Less than a week after firing Sumlin, Texas A&M hired John "Jimbo" Fisher, Jr. as head coach of its football program. Like Sumlin, Fisher has a long coaching history stemming from the late 80s. For eight years, he coached the Florida State Seminoles, leaving as the highest winning percentage head coach in FSU history. Those wins include a National Championship, four bowl game wins and three conference titles. With an impressive resume like that, it is no wonder Texas A&M pulled out the big bucks for Coach Fisher.
Fisher has signed a 10 year contract worth $75 million with several opportunities for increased pay—all areas of which he has previously been successful. These opportunities include a division championship, a New Year's Six bowl appearance, an SEC championship and a National Championship. In total, Fisher could possibly make $8.5 million this year alone.
Though Sumlin was unable to deliver such feats at TAMU, it should be noted that he produced a Heisman award winning quarterback in Johnny Manziel and a number one NFL Draft pick in defensive end Myles Garrett. So make no mistake, Coach Fisher has big shoes to fill.
As if leading the team was not an arduous task by itself, pleasing the 12th Man is even harder. The Aggie fans deserve and expect nothing less than excellence for this upcoming 2018 season.
The Jimbo Era officially begins on Thursday, August 30 at 7:30 p.m. CT as the Fightin' Texas Aggies take on the Northwestern State Demons. #BTHONorthwesternState