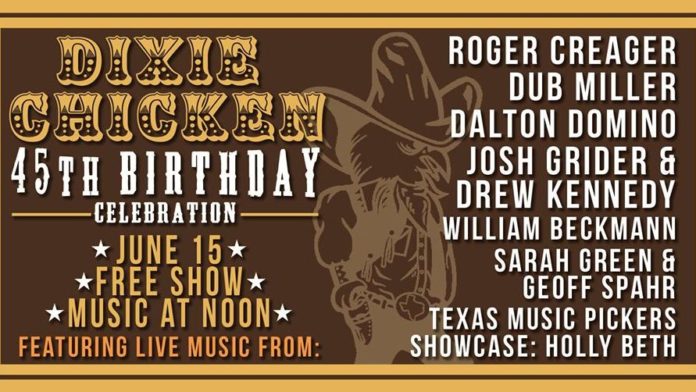 In 1974, Don Ganter and Donnie Anz opened the Dixie Chicken to give Aggies a place to hang out, reunite with friends and family, and celebrate a Fightin' Texas Aggie football game. "Traditions are such an integral part of this community," Katy Jackson, VP of Dixie Chicken Inc. says. "We pride ourselves on being part of the Aggie tradition and being here for Aggies."
Now, 45 years later, the Chicken is a staple of Northgate's social scene as a place that attracts people from far and wide to enjoy a cold drink, a delicious meal, and a good time. So put on your boots and come on out to the Chicken on June 15 to celebrate the Dixie Chicken's 45th birthday with a cold one and a full day of live music!
"It's a free event to give back to everyone who has supported us for over 45 years," says Marketing Director Adam Drake.
What better way to celebrate and give back than a lineup that's full of some of Aggieland's own musicians? This event will be another one of the Chicken's famous porch concerts to celebrate the bar's legacy. Jennifer Ganter, President of Dixie Chicken Inc., says, "Music is part of the DNA of the Chicken and has helped mold our identity since 1974."
The headliners for the celebration are no strangers to Aggieland. Sarah Green ('16), draws inspiration from Stevie Ray Vaughn and AC-DC. Last year, she performed at the Chicken for its Texas Independence Day celebration, and she returns this weekend to perform some of her own tunes as well as a song-swap with Geoff Spahr ('01).
Award winning songwriter Roger Creager ('93) will return once again to his Texas country roots to celebrate and bring yet another exciting performance to College Station. Whether you're two-stepping with your lady to "Kiss Her Slow" or  kicking back to "Gulf Coast Time," his is sure to be a performance you won't want to miss. 
And the fun doesn't have to end after the last performance! Whether you're looking to enjoy a nice bottle of wine or a cold beer or dance the night away, stick around and take advantage of the many popular spots in Northgate. 

For more information and to see a complete lineup, visit http://bit.ly/3106qUp.