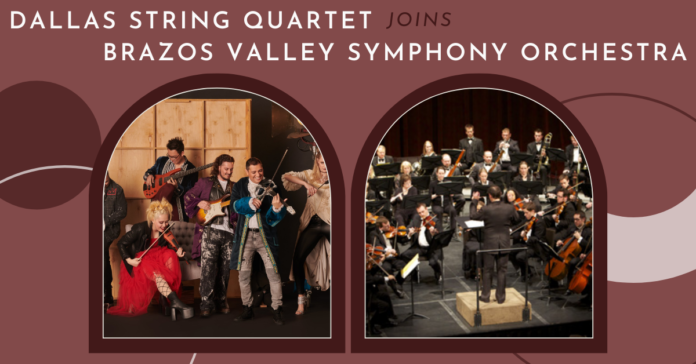 The Dallas String Quartet will be playing alongside the Brazos Valley Symphony Orchestra May 9 for a concert that will be packed with music of all genres.
The concert will start off with the Brazos Valley Symphony Orchestra playing a ballet, "La Création du Monde" written by Darius Milhaud in 1923. This piece focuses on the formation of the world as told in African folk mythology. The orchestra will also be playing a lively piece titled "Divertissement," which was written by Jacques Ibert back in the 1930s with the intention of keeping an audience entertained.
After that, BVSO will invite the Dallas String Quartet to join them and things will really start to heat up. The Dallas String Quartet is a group unlike any other, fusing together classical and contemporary music in ways that intrigue over 200,000 monthly listeners on Spotify. The quartet has covered everything from "Hey Soul Sister" by Train to "Don't Stop Believin" by Journey. DSQ's ability to transform classical pieces with pure spunk leaves listeners enthralled and inspired. For this concert, expect to hear everything from Piazzolla to Paganini to Gloria Gaynor's "I will Survive" and even a piece that starts with "Sibelius' Violin Concerto" and ends with Led Zeppelin's "Kashmir."
This event will be so full of fun, music and talent you do not want to miss it! The event will be from 5 p.m to 7 p.m at the Brazos County Expo in Bryan. Tickets are $45 for adults, $16 for students and can be purchased here. You can also decide to partake in their 'via video' option which will allow you to view a professionally filmed video of the performance in the comfort of your own home. Tickets for the 'via video' option are $35 and can be purchased here.
Sources:
https://www.dallasstringquartet.com
http://www.halpernprogramnotes.com/ibert-divertissement