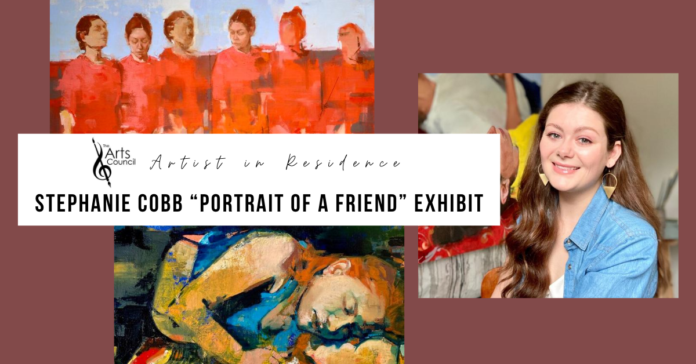 If you find yourself in need of a creative recharge, there is nothing like a local art exhibition to get you thinking. A new College Station artist in residence is in town with her "Portrait of a Friend" exhibit. Through Aug 29, the art will be up for display at the Arts Council of Brazos Valley..
The Arts Council of Brazos County is featuring the exhibit as part of a 3-month residency program for current or recently graduated art students. The artists spend their summer preparing for a solo exhibition. The gallery will display portraits made by Stephanie Cobb, an M.F.A candidate at LSU College of Art + Design, featuring subjects that are close to her personal experiences. "Art is an expression of ourselves which is unique to our own experiences," says Cobb. The paintings themselves have a variety of surface qualities achieved through the use of different brushes, painting techniques (scraping, wiping, shifting), and application methods.
Cobb graduated from Savannah College of Art and Design, where she received a B.F.A in painting, and her art has been a part of many group exhibitions. As well, she has participated in other residency programs in Ireland, Louisville, Philadelphia and Texas. She welcomes anyone that has an interest in art to visit the gallery and take advantage of the opportunity to see art locally. Cobb says, "My figures are buried in color and shape, without sacrificing the expression or their posture, to allow multiple paths for intimate viewing," explaining that what she means by "paths" are the surfaces she's employed—thin gloss, matte and thick paint, which provide insight into what she is communicating in her work.
Consider coming out to the Arts Council Gallery for artistic inspiration from the "Portrait of a Friend" exhibit. You can expect to see a collection of paintings with subjects that "evoke emotion, memories and connection," says Cobb. It may be a great way to start exploring local art in your area, and it may even spark your interest in becoming an artist yourself!