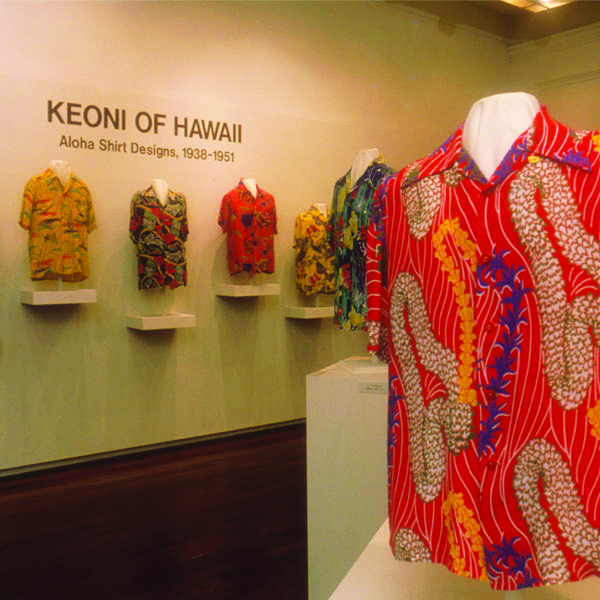 You see them everywhere: a dad on a weekend getaway, a fraternity brother at a live music festival, any person that's on a cruise. Sometimes it seems that whenever the temperature rises above 75 degrees, we have a tendency to wear our favorite Hawaiian button up. Also referred to as the Aloha shirt, this festive torso wear makes anyone stand out in a crowd due to the intricate patterns and vibrant colors. "Art of the Aloha Shirt: Keoni of Hawaii, 1938-51," the latest exhibit at the J. Wayne Stark Galleries at Texas A&M University, will be on view from Jan. 28 – Apr. 19 and pays homage to John "Keoni" Meigs and his contributions in making the shirt into what we know and love today.

The origins of the Aloha shirt are, in fact, quite uncertain. However, what is certain is the obvious inspiration drawn from Polynesian tapa cloth, Tahitian sarong-like skirts, and the fabric used to make Japanese kimonos. In the 1930s, as Hawaii became a popular destination for tourists, a need for casual wear and not just work clothes took over the clothing industry in Hawaii. After World War II, tourists fell in love with the shirt and made sure to bring their colorful clothing home after their holidays on the islands.

John "Keoni" Meigs is credited as the most innovative merchandiser in the history of the Aloha shirt. Known by others as "Keoni of Hawaii," his self-taught painting skills attracted early shirt manufacturers in Honolulu. 1938 saw his first designs, based on Polynesian tapa patterns he saw at the Bishop Museum. Keoni went on to create as many as three hundred Aloha shirt designs, and his unique vision for the Aloha shirt has been curated by Dale Hope, a Hawaiian native and author of the book "The Aloha Shirt: Spirit of the Islands."

This latest exhibition is on loan to the Stark Gallery from ExhibitsUSA. ExhibitsUSA is a national division of Mid-America Arts Alliance with The Texas Commission on the Arts and The National Endowment for the Arts. "Both the Stark and Forsyth Galleries bring in exhibitions from around the country that our students and community wouldn't otherwise get to see, and admission is always free," says Molly Painter, University Art Galleries Communications Specialist.

"Art of the Aloha Shirt: Keoni of Hawaii, 1938-51" will be on display at the Stark Galleries in the Memorial Student Center (MSC 1110). Along with the exhibit, the folks at the gallery invite all guests to their Aloha Shirt Luau on Thursday, Mar. 19, from 4:30-6 p.m. in the Stark Galleries. Guests can enjoy refreshments, games, music, and giveaways at the luau, and of course wear their own favorite Hawaiian button-up. 

For more info, go to  https://uart.tamu.edu/aloha/