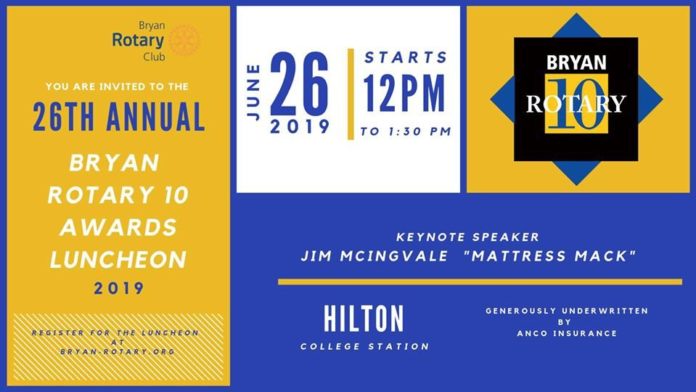 In a fast-paced world like our own, where everything under the sun can be purchased online in no time at all, it's sometimes easy to forget about the hard-working owners of small businesses in your own community. For the 26th year in a row, the Bryan Rotary Club is making sure these diligent, industrious cornerstones of our community are not forgotten. On Wednesday, June 26, everyone is invited to attend the 26th Annual Bryan Rotary 10 Business Awards Luncheon, an event that, according to their website, exists to recognize "the ten fastest growing firms in Brazos County annually." In addition, the Anco Lifetime Achievement Award will be presented to a well-known and loved business that has positively affected the B/CS area, and the Brazos Valley Economic Development Corporation will present its Launch Award to a Brazos County company that has improved or transformed the B/CS marketplace.

This year's guest speaker is none other than Jim McIngvale, "Mattress Mack," founder of the Gallery Furniture chain. This businessman and philanthropist started out his career much the same way as many of this year's nominees, and he has grown to be one of the most recognizable faces in Texas.

Rotary as an organization was founded in 1905 by Chicago attorney Paul Harris so that, according to Rotary's website, "professionals with diverse backgrounds could exchange ideas, form meaningful, lifelong friendships, and give back to their communities." Bryan's organization was chartered all the way back in 1921, and throughout their almost 100 year history, they have lived up to Harris's mantra. On top of making it a point to yearly recognize small businesses in B/CS, they also give back to the community by supporting many local charities and youth programs and performing international outreach.

This event will be held on June 26 from 11:30 a.m. – 1:30 p.m. at the Hilton Hotel and Conference Center in College Station. Individual tickets are $40, but if you wish to reserve whole or half tables, that is also an option. Reserve your tickets through the Bryan Rotary Club's website today if you would like to show your appreciation for local B/CS businesses!

For more info, visit: https://www.bryan-rotary.org/sitepage/bryan-rotary-10-1