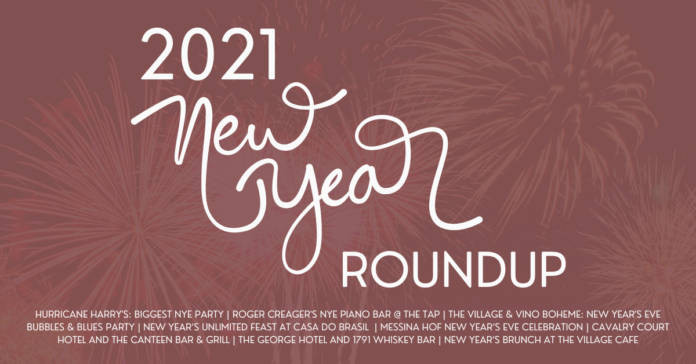 If you find yourself in BCS this year when the clock strikes 12, let it be somewhere where you can celebrate right! Here are eight of the best places to be this weekend as you ring in the new year.
Hurricane Harry's: Biggest NYE Party
Hurricane Harry's is throwing what they're calling the Biggest NYE Party in Town, and it starts at 8 p.m. Having a table or booth means you get free party favors, a free bottle of champagne to toast at midnight, and a free food buffet at midnight. You can call 979-846-3343 to RSVP and claim a spot.
Roger Creager's NYE Piano Bar @ The Tap
Attention all country music listeners: Roger Creager will spend New Year's Eve at The Tap as a part of his 2021-2022 tour. Creager is known for his rich voice and Texan themes you can relate to. Doors open at 8 p.m. You can purchase tickets online for $20. Call or email The Tap to reserve tables for the evening.
The Village & Vino Boheme: New Year's Eve Bubbles & Blues Party
This event involves two venues for one ticket, and it supports local non-profits with your celebration. The Village will have Americana and Blues live music all evening, featuring Joey McGee, Terri "Goose" Downing and the Lost Relatives. Vino Boheme will have a calmer atmosphere with lounge music allowing you to sit and mingle with company. Portions of ticket sales and an auction will be split to support seven local non-profits. Get tickets for $75 before the event sells out.
New Year's Unlimited Feast at Casa do Brasil
If you're looking for superb dining infused with warmth and flair, Casa do Brasil is where you'll want to be on New Year's Eve. Choose from two dining times, lunch from 11 a.m. to 2:30 p.m. or dinner from 4:30 p.m. to 10 p.m. Added to their salad bar & skewered meat course, you'll enjoy stuffed pork loin served tableside, black-eyed pea soup, Brazilian holiday rice, potatoes au gratin, and brussel sprouts. All this will be accompanied by a glass of complimentary champagne and the music of David Jack Skinner & Rachel Bloem, who will play from 7-9 p.m.
Messina Hof New Year's Eve Celebration
Spend your last few hours of 2021 in elegance as you enjoy Vineyard Cuisine's delectable appetizers and a dessert bar, paired with Messina Hof's wines. This event lasts from 9 p.m. to 1 a.m. with a Texas Sparkling Wine toast at midnight. There's even a selfie booth! You can spend your classy, celebratory evening here for $55.95.
Cavalry Court Hotel and The Canteen Bar & Grill
For a cozy New Year's celebration, book a stay at the Cavalry Court Hotel. The New Year's Eve Hotel Package includes everything you would need to enjoy a restful transition into the new year, including accommodations for two and two complimentary drinks at The Canteen Bar & Grill, where you'll enjoy live music by the cozy fire. New Year's Eve festivities begin at 9:30 that night. You can book your stay online.
The George Hotel and 1791 Whiskey Bar
The George Hotel offers a luxurious transition to 2022 as you peacefully wave goodbye to 2021. Their New Year's Eve package includes accommodations for two along with two complimentary drinks at 1791 Whiskey Bar, and live music by Jeff Jacobs Band from 9 p.m. to 12:30 a.m. Enter the new year in style, and book your stay online.
New Year's Brunch at The Village Cafe
The celebration continues on January 1, with a special brunch being served from 10 a.m. to 4 p.m. at The Village. Pick one of their "New Year's Day Good Luck Foods" to get a head start on those resolutions. Try their festive sliced ham for progress, their perfectly cooked cabbage for cash, fluffy cornbread for gold, or black-eyed peas for all-around good luck. Purchase tickets for $22 to have guaranteed seating, the brunch buffet, and drip coffee or tea to jump head first into 2022. Add on the Mimosa Bar for $10.
Whether you're looking for a peaceful ease into the new year, a country jam party, or to end the year with one final act of charity, the restaurants of BCS are ready to make your final chapter in 2021 a good one, so you can start the new year with a full heart!