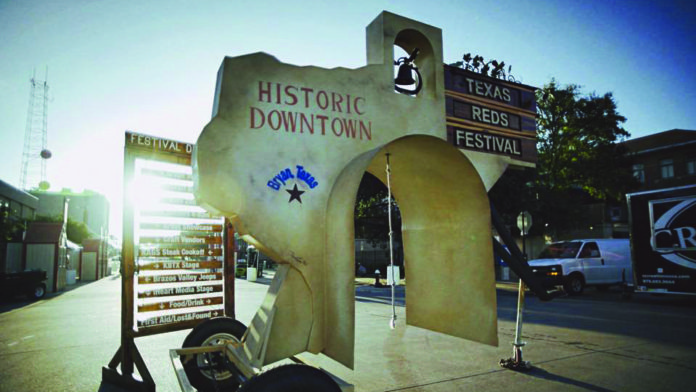 If you are in need of a fun weekend where you can experience local food and drink and just relax, look no further than the Texas Reds Steak and Grape Festival. Hosted by the Downtown Bryan Association, Texas Reds is a celebration of some things we take very seriously in Texas: wine, beer, steak, and music. From September 27-29, local wineries and caterers will bring locally crafted food and alcohol while local musicians perform, artists display their work, and the kids participate in fun activities.

"Texas Reds is the signature event of downtown Bryan," said Katelyn Brown, festival director for Texas Reds. "It's a weekend celebrating all things Texas with regards to Texas wine, beer and steak. It's an opportunity for not only locals but also people from out of the area to come experience Downtown Bryan in a very special and unique way."

The main attraction of Texas Reds is being able to sample excellent food and drink from right here in Texas. Surrounding Downtown Bryan will be tents serving wine and beer from Texas wineries and breweries. In addition, there are several events on Saturday and Sunday where where you can enjoy succulent steak, including a steak dinner at Madden's, a chance to sample the steak from a cook-off competition, and even a "Sunday Steak & Egg Brunch" that sells out every year.

"All of the wineries that participate in the festival are Texas wineries and a majority of the wine that they make is all Texas grapes," Brown said. "Same with beer—it's all craft breweries in Texas. And then as far as steak, we work with local caterers who do our steak lunch and our steak dinners."

In addition to great food and drink, Texas Reds also hosts several live musical events all weekend long, most of which are free. Located next to the wine and beer tents, the Acoustic Cafe hosts live performances from local musicians around the clock. There are additional concerts throughout the weekend at several locations.

In addition to the free musical acts, the winning bands from this summer's Brazos Valley Band Showcase will also perform all day Saturday as a part of Texas Reds. All four winners, Pardon the Mess, Texas 105 band, The Great American Boxcar Chorus, and the Docs, will be featured on the main stage from 12:30-6:00 p.m. on Saturday.

The festival also provides other forms of entertainment throughout Downtown Bryan. From 12:00-6:00 p.m. on Saturday, the Queen Theatre will showcase several classic domain cartoons for free, including Felix the Cat, Casper the Friendly Ghost, and Popeye. While the screening is free, there is limited space, as the Queen Theatre will only be able to seat 126 people at one time. Sports fans who want to catch up on college football can stop by the nearby Palace Theater, who is hosting the "Sports Zone" from 11:00 a.m.- 8:00 p.m. on Saturday.

For those looking to bring their children to Texas Reds, the event offers several family friendly activities that parents will want to look out for. The Kid's Zone provides a fun area for children to play and hang out, loaded with a bounce house, fun arts and crafts, and even a little train for them to ride. Grape Stomping in the Carnegie plaza is another fun event for families to go to while at Texas Reds.

Those who wish to attend Texas Reds are advised to go online and pre-purchase tickets in advance. "We definitely encourage people to purchase (tickets) prior to the festival. That way they can skip the lines and start enjoying everything," Brown said. "The only real deadline is if you want to enjoy the Sunday brunch. Those tickets do typically sell out, so we have a limited amount of those left. And then if you want to have a few extra tasting tickets to enjoy, we have our wine tasting plus package and our beer tasting plus plus package. Those will give you an extra 10 tasting tickets. Those are $32 as opposed to the $25 for the regular ticket, and are only available prior to the festival."

With a copious amount of great food and drink, live musical performances around every block, and fun activities for friends and family to enjoy, Texas Reds is a celebration ready to rock Downtown Bryan!
For more information, please visit: https://bit.ly/2i6bmER