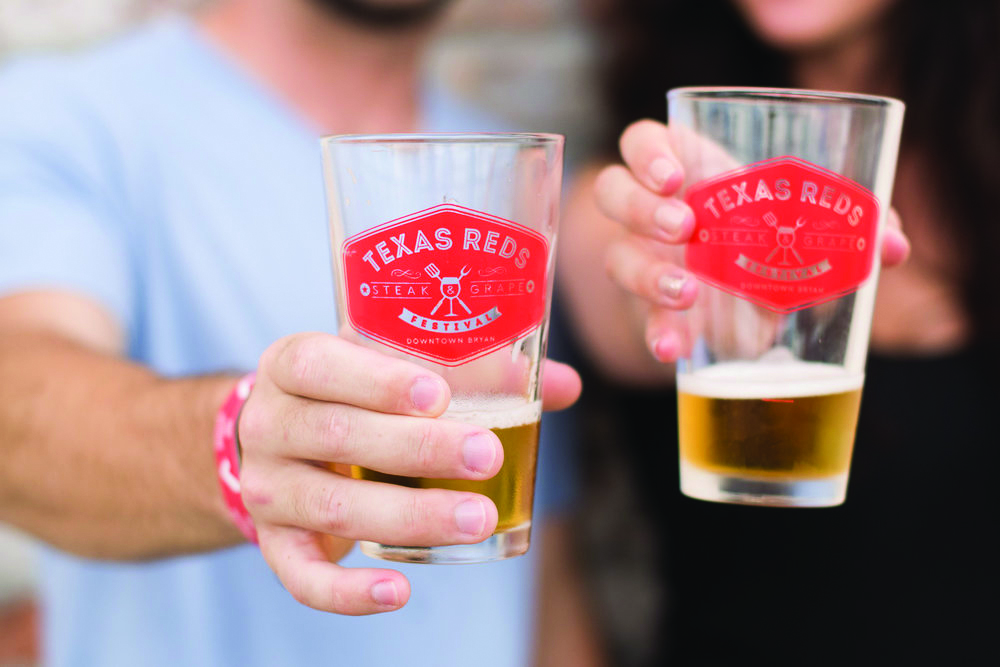 Calling all Texans! Calling all Texans! Are y'all ready for one of BCS's best weekends? From September 28-30, the Texas Reds Festival will wine and dine you in this over-the-top celebration of Texas wine, beer, steak, and art in historic downtown Bryan. Here you'll find mouth-watering steaks cooked to perfection, accompanied by red wines luscious enough to make you think you're in heaven. Then add in country music entertainment guaranteed to knock your boots off, and you'll have an unforgettable weekend.
The kick off concert opens Friday night at 7:30 p.m. and features country singer Clayton Gardner.  Afterwards, headliner for the festival Wynonna & The Big Noise takes over the stage at 9:30. On Saturday, September 29, there will also be a variety of events going on —the grape stomp, steak cook off, and wine and beer tents are open throughout the day from 11 a.m. to 8 p.m. Also, there will be a Kids Zone, with inflatable bounce houses, art with Purple Turtle Art Studio and much more. Generously sponsored by Bryan Broadcasting, admission to Kids Zone is free and allows parents to rest and enjoy the entertainment.
What makes this year even more special than past years is that Saturday hours are extended, with longer beer and wine tent hours. This year, Texas Reds will also add a second wine tent due to the growing number of Texas wineries that will be participating. Sunday, September 30, the focus of the festival is on local business in downtown Bryan, hosting a brunch and a free concert in the Palace theater. If you have left over tasting tickets from Saturday, you can use those on Sunday at the Palace concert. There will also be a variety of merchants open on Sunday, and local musicians will be performing along the sidewalk. The festival itself is free, however you must purchase tickets in order to enjoy tasting the wine, beer and steak at the festival. A limited number of tickets will be sold at the festival, so presale tickets are recommended.
It does take a village to keep Texas Reds running successfully, but the festival also gives back to our village of BCS. Festival director Katelyn Brown says, "In order to make Texas Reds possible, there are over five hundred volunteers, and the majority of those volunteers will sign up as organizations. So there's a variety of nonprofits that sign up as a group, and if those individuals in that organization work a total of fifty hours or more, Texas Reds will give the organization five hundred dollars that will go directly to their nonprofit." Steak, red wine and making a difference in the community—sounds like a true Texas tradition. Maybe we are in heaven—it is Texas after all!