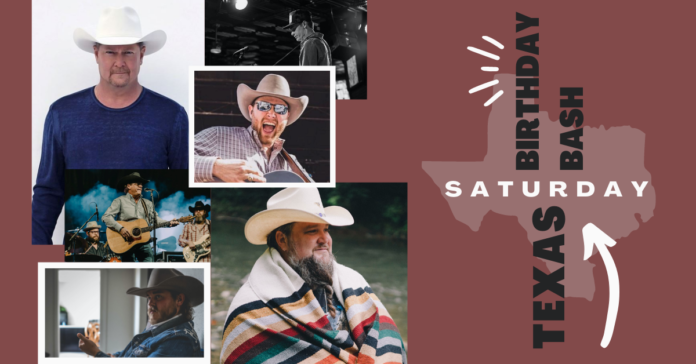 Howdy all Texas music lovers! Celebrate Texas Independence day with the 9th annual Texas Birthday Bash on March 5 and 6 in charming downtown Navasota. The two-day music festival will feature some of the biggest names in Texas music, authentic Texan-made food, and unique Texan vendors. Grab your family and head on down to Navasota for a weekend of fun for everyone!
Carson Jeffery: Performs 2:30 p.m.
The afternoon will kick off with Carson Jeffery, native of Cat Spring, Texas. After picking up the guitar and starting to write songs in high school, it wasn't long until Jeffery realized he might actually have something worth listening to, and in the summer of 2019, recorded his debut album "Muchos Sonidos" and formed a band.
Wynn Williams: Performs 3:45 p.m.
Following Carson, Aggie alum Wynn Williams takes the stage. Launching his self-titled 14-track debut album at just 25 years old, Wynn has been spending his nights sharing the stage with notable country names like Josh Abbott, Randy Rogers Band, Parker McCollum and more.
Jon Stork: Performs 5:00 p.m.
Next up, Jon Stork, Americana country artist from Houston, Texas will be showing off his rockytonk flare and soulful sound with his singer songwriter style. John's first full length album, "Radio Cowboy" was released in 2019. Facts and Lies, the first radio single off the new album went #1 on Texas radio in February of 2020.
Derek Spence: A Tribute to George Strait: 6:45 p.m.
A Tribute to George Strait from Derek Spence is following Jon Stork. Derek gives a truly authentic experience, focusing on the look, sounds, and mannerisms of King George himself, even to the point of getting gasps from the audience before he even plays the first note. Having performed at some of the biggest venues in Texas, Derek knows just how to make this a memorable show.
Sundance Head: Performs 7: 30 p.m.
Taking the stage next is Sundance Head, artist of three #1 songs on the Texas music charts. Sundance has been singing all his life and toured with some of the best in the business but his latest accomplishment, his brand new album, "Stained Glass and Neon," produced by songwriter and artist Dean Dillon, may be his most noteworthy achievement yet.
Tracy Lawrence: Performs 9:00 p.m.
Finally, the headliner of the night, Tracy Lawrence, will be performing at 9 p.m. The singer began performing at age 15, and since then has added the titles of songwriter and record producer to his resume. Signing with Atlantic Records in 1991, Tracy has been a big name in Texas Country ever since. With over ten studio albums since the start of his career, Tracy has collaborated with artists like Tim McGraw, Luke Combs, Luke Bryan and more. With multiple #1 hits over the years, Tracy has recorded for Warner Bros. Records, DreamWorks Records, Mercury Records Nashville, and his own labels, Rocky Comfort Records and Lawrence Music Group.
This lineup of artists is sure to bring the heat to close out the second and final day of the Texas Birthday Bash. And in addition to the music, expect Texas themed activities for the whole family including a western themed street shootout re-enactment, shopping, food and more. Buy your tickets in advance today to reserve your family's spot to hear some of the biggest names in Texas country music and have some good old fashioned Texas fun!
Texas Birthday Bash will be taking place outdoors in Historic Downtown Navasota around the City Hall at 200 E. McAlpine St. Presale tickets for Texas Birthday Bash are $8 per day or $15 for a 2-day pass. Day-of tickets are $10 per day and kids under 12 years old are free.
Tickets can be purchased on the Texas Birthday Bash website or at the Navasota City Hall.