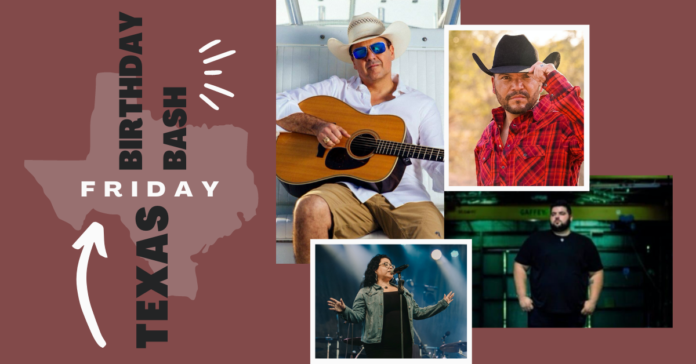 Kick off March at the Texas Birthday Bash! Here's what's coming your way on the first day of the event, Friday, March 5.
Jamie Weston: Performs 5:00 pm
After falling asleep to the sound of his grandfather's band in Texas dance halls as a little kid, it was only a matter of time until Jamie Weston was up on stage himself. Hailing from Hutto, Texas, Weston joined the band Cheyenne as their main male vocalist at the ripe age of 18. After being with the group for two years, he got an itch to go off and start his own band known as Southern Sky. One album and five years later after performing with some of the top names in the industry, such as Stoney LaRue, Jack Ingram and Mike Ryan, Southern Sky came to a close. Now Weston has started another band, an EP titled "My Getaway" and the same country sound that his fans came to know and love, Weston will bring his self-described "good vibes and good music" to center stage on Friday evening!
Vital: Performs 6:15 pm
Comprised of four Houston natives, Vital covers songs from country to rock to Tejano. After performing at Texas Birthday Bash last year, this energizing band is back for round two and is sure to have you singing along to the beat!
Michael Salgado: Performs 7:30 pm
Starting his career nearly 25 years ago, Tejano singer Michael Salgado is no stranger to the music scene. Since his single "Sin Ella" rose to the top 20 of the Latin American Music charts in the mid 1990's, Saldago has produced a whopping 13 albums. With influences from other Tejano singers such as Ramón Ayala, Saldago's music is infused with sounds from the accordion, drums, and guitar, and will have you dancing to the rhythm all night long!
Roger Creager: Performs 9:00 pm
Born and raised in the Lone Star State, this former Fightin' Texas Aggie sure knows how to put the Texas into Texas Country! As a self-described adventurist, Roger Creager has done it all. From climbing up Mount Kilimanjaro in Africa, scuba diving beautiful coral reefs or skiing down the snow-covered Rockies, Creager's skillful songwriting makes you feel like you're on the journey right along with him! This zeal for adventure is carried over into his shows, delivering a high energy performance for his fans time and time again, and he's sure to bring the heat for the last show of the night at the Texas Birthday Bash!
Taking place in the beautiful outdoors around Navasota City Hall, this action-packed live music festival will kick off at 5:00 pm Friday, March 5, with the gates opening at the same time. And if you are worried about parking, don't be! There will be a free shuttle running to and from Navasota High School, the VFW, and Santa's Wonderland during the event. Pre-sale tickets are available on the website for $8 per day, or $15 for the two-day pass. If you'd rather wait and buy tickets at the gate, you can do so for $10. And those with kids 12 and younger are in luck, as they get in free!
Mark your calendars, grab your dancing partner, and make sure not to miss this live music festival that's only a short drive away from Bryan/College Station!
Sources: https://www.facebook.com/Jamiewestonmusic/
https://en.wikipedia.org/wiki/Michael_Salgado#De_Buenas_Raices