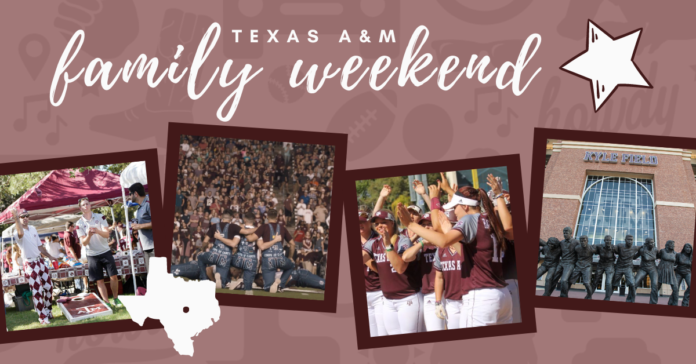 If you are looking for some family fun this weekend, look no further than Texas A&M's Family Weekend! With a hybrid mix between in person events and virtual ones, Family Weekend is sure to please everyone. Find out all about a few of the events taking place each day here:
Friday, April 9:
Aggie Softball and Baseball
Kick off this fun-filled weekend with some Aggie sports! Watch as Aggie Softball takes on the Auburn Tigers at Davis Diamond starting at 6 p.m., or head on over to Blue Bell Park, as the Aggies Baseball team faces the Alabama Crimson Tide at 6:30 p.m. Tickets are limited, so plan ahead and get them now!
Drive in Movie
Join MSC Aggie Cinema for a family-friendly movie night straight from the comfort of your car! Grab a blanket, your favorite snacks, and relax as you watch Spider-Man: Into the Spider Verse. Taking place at the Fan Field Lot, this movie is a fun one for sure. Parking begins at 6:30 p.m., giving you ample time to find the perfect spot before the movie starts at 7:30. Tickets for this event are $10 per car and can be purchased here.
Family Night Trivia
If you and your family are die hard Aggies or A&M fanatics, work together to put your knowledge to the test! Starting at 7 p.m., this virtual event will quiz participants about anything and everything A&M related, and will even answer some questions that prospective students have. Click here to register for the event!
Professional Bull Riding
Grab your friends and family and gather at Reed Arena to watch one of the most action-packed events in Western sports! Featuring 45 world-class bull riders from six countries and three continents, these bull riders will put on a show you are sure to remember for years to come! Taking place on both Friday and Saturday, this event will kick off at 7:45 p.m. each night, and tickets for this family-fun event can be purchased here.
Yell Practice
To end the night, take the family out to Kyle Field as you join the Yell Leaders, Aggie Band, and other fans underneath the bright lights of the stadium for a Fightin' Texas Aggie Yell Practice at 10:00 p.m.! Make sure to register for this free event ahead of time.
Saturday, April 10:
Downtown Street & Art Fair
Stop by the Downtown Bryan Street and Art Fair for a one stop shop of artists and artisans from across the region! Enjoy a variety of food, flowers, creations, and other products for sale as you listen to live music, admire art demonstrations, and watch street performers. This event is taking place from 10-6 p.m., and is free for all ages, so make sure to bring the family out for some local fun!
Family Weekend Tailgate
On Saturday afternoon from 1-3:30 p.m., stop by the Student Recreation Center Terrace for some family fun, tasty snacks, exciting games, and an incredible view of Kyle Field! Register for this free event in advance.
Aggie Baseball, Softball and Soccer:
If you can't make the Baseball and Softball games on Friday night, no worries! Aggie Baseball will take on Alabama for the second time at 2 p.m., and Aggie Softball will battle against Auburn again at 4 p.m. At 7 p.m., Aggie Soccer will battle it out on Ellis field against TCU. Tickets for all of these events can be found here.
Sunday, April 11:
Kyle Field Day
Close out the 2021 Family Weekend with Kyle Field Day, a one-day service event held inside of Kyle Field. As you wander around the stadium, make sure to enjoy live entertainment, stop by booths to learn more about nonprofits in the community, and learn about how you can get involved with ones that match your passions! This in-person and virtual event will be held from 12 – 3 p.m., and is free for all ages!
Throughout the weekend, there are endless options for family-filled fun! While some events cost money, others are free, and since there's a mix between both in-person and virtual options, there's surely something for everyone! Click here to learn more and see a complete list of the events taking place during Texas A&M Family Weekend.