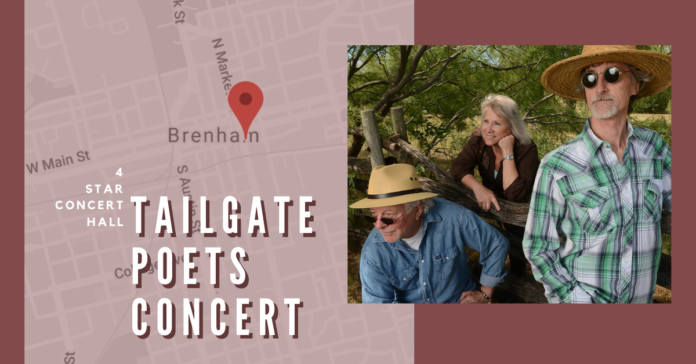 Get ready to enjoy a night out on Saturday, March 20, cause there's more live music this weekend at 4 Star Concert Hall in Brenham! This weekend's band is no stranger to the area and probably doesn't need an introduction—Tailgate Poets will be performing from 8-11p.m., so grab everyone you know and head to 4 Star!
This roots-rock style band from Brenham is ready to get the crowd rockin' out all night long to their originals and some covers. The three-member band consists of Andy Chiles, Martin McCall, and Sandy Hall-Chiles. Chiles is their songwriter, guitarist, and vocalist. McCall is on the drums, and Hall-Chiles plays the bass and sings. All of which come together to combine blues, jazz, and of course, country.
Tailgate Poets formed in 2013 outside the DFW area. McCall and Chiles have played together since 1989, and Chiles "coerced" his wife, Sandy, into playing bass for the band by giving her a bass guitar for Christmas. Though she was a musical newcomer compared to the guys, she has brought a distinctive tune to the music in her vocals.
Listen to Tailgate Poets on YouTube or whatever music streaming service you have, such as Spotify and Apple Music. Look for their two albums, "Somewhere in Between" and "This Is Where."
You'll have to hear the three musicians for yourself this Saturday night! If you don't have dinner plans, go to 4 Star for Happy Hour from 5-7 p.m. and enjoy some delicious food and drinks before the show begins! The concert is free to the public but register online to let 4 Star know you're coming.
Sources: