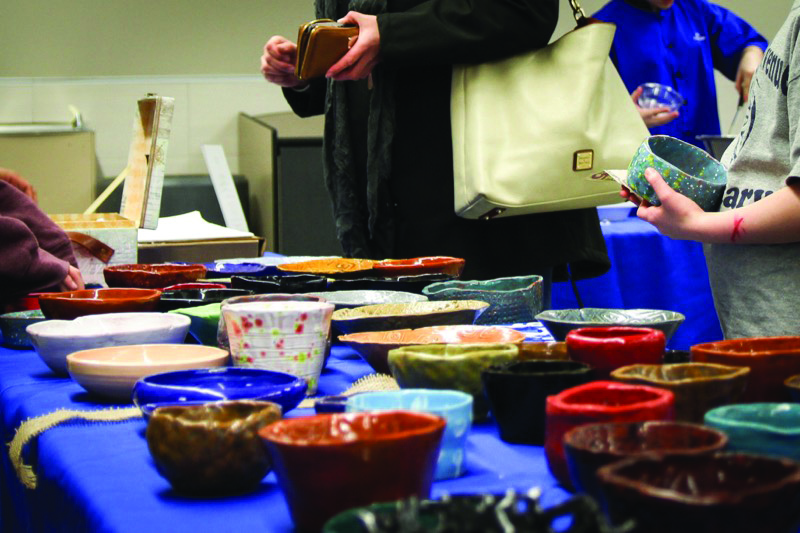 Buy a bowl, feed a soul. Hosted by The Arts Council of Brazos Valley, this year's Empty Bowls Jr. event will occur on March 2 from 11 a.m to 1:30 p.m. at Allen Honda in College Station, TX.

Originating in 2013, Empty Bowls Jr. is an annual event that directly supports local in-school food pantries and The Arts Council programs. Attendees who provide a $10 donation will receive a handmade bowl as well as a delicious bowl of soup and bread provided by participating Taste of B/CS members and local restaurants. This year's lineup includes nine local restaurants: Blue Baker, Cheddar's Scratch Kitchen, C&J Barbeque, Fish Daddy's Grill House, J. Cody's Steak and Barbeque, Mad Taco, Shipwreck Grill, The Kyle House and Veritas Wine and Bistro.

According to the Arts Council Website, "Students and art educators from more than 25 Brazos Valley schools have created hundreds of handmade, artistic bowls to donate for this event with the purpose of 'kids helping kids.'" These handmade, artistic bowls are donated on behalf of K-12 students from area schools to signify all of the empty bowls in the Bryan/College Station community.

One out of three children in the Brazos Valley are affected by food insecurity. This event is one way in which the Bryan/College Station community can aid in the effort to end childhood hunger. "The purpose of this event is to feed our children," says Pam Smits, The Arts Council of Brazos Valley Board of Directors President. "Proceeds go back to our schools- some have in-school food pantries, and some have backpack programs."

Every Bryan/College Station elementary, middle and high school will be represented at Empty Bowls Jr. with hundreds of handmade bowls available. "These local K-12 students are very talented," says Smits. "You're taking home a piece of art and contributing to a great cause."

Last year's Empty Bowls Jr. event raised nearly $14,000 for five in-school pantries and Arts Council programs. This year, the Arts Council is hoping to surpass this achievement with your help.

For more information, visit https://bit.ly/2GstAMq.