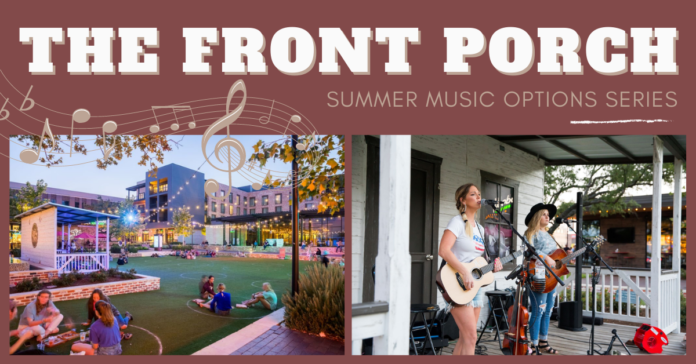 To some, it may seem unusual to gather by a stranger's front stoop. To sit in the grass or pull up a chair to the wooden deck, greeted by music streaming from the rustic facade. Yet that's just what those venturing to The Front Porch stage plan to do.
Through Aug 28, The Front Porch music venue will be hosting a live music series every Friday and Saturday. For no cost at all, anyone can unroll their blanket on the grass at this Century Square location and enjoy, while talented locals and students make a name for themselves in the music scene. The concerts run from 7-10 p.m. and attendees can come and go as they please. Throw in the nearby shops and restaurants, and we have a night to remember!
The Front Porch concept celebrates the trailblazing spirit of Brazos Valley musicians as a tribute to two Aggies, Robert Earl Keen and Lyle Lovett, who got their start playing on their own front porch. The convenient location means audience members can grab a drink or bite to eat from Porters or Hopdoddy Burger Bar before settling in to enjoy the tunes. Most of the music will have a country feel, though some musicians may deviate as they explore their individual sounds.
At the head of Century Square's green, The Front Porch is surrounded by beautiful boutiques, premier eateries, living accommodations and wellness hotspots like Galleria Spa and Orangetheory Fitness. With so many options, Century Square can make a great place to spend the day, and adding in live music just makes it even better!