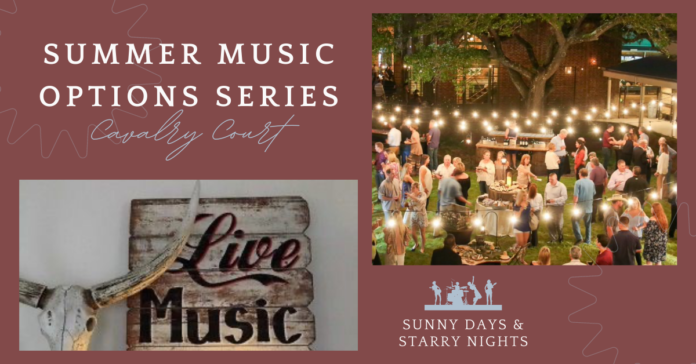 Sit in a rocking chair on the front porch of your hotel room as the sun sets and live country music drifts in on the breeze. The nighttime brings a welcome slightly cooler air, yet it's still warm enough to make enjoying a cold drink or a dip in the pool during the performance a great idea. The rustic setting of the hotel and courtyard work to make the atmosphere inviting and comfortable. Sure, the theme may be military-based, but Cavalry Court is still a down-home, relaxing place to be. And July 3 through Aug 21, their Summer Live Music Series will feature weekend concerts with the best acts from all across Texas.
Every Friday and Saturday this July and August will be filled with live music, craft cocktails, and relaxation. From 7:30 – 10:30 p.m., the courtyard will host the best country and rock musicians from across the state. Visitors can enjoy the performance from several locations on the Cavalry Court complex, including the pavilion, courtyard, or poolside cabanas. And for those who would rather avoid the crowds, Cavalry Court has a hotel room package that puts the guests right at the heart of the action without ever having to leave their porch.
When it comes to setting up who will be playing these summertime shows, a lot of things are taken under consideration, as Gretchen Barber explains. She's in charge of setting up the talent for the shows at Cavalry Court, and says only the best of the best make it to the stage. "We are looking for experienced, professional musicians in the Country and Rock genres…entertainers who connect with the audience."
This year, Cavalry Court's Summer Live Music Series will feature concerts from groups like "The Broken Spokes," "Two Tons of Steel," "Shadow Canyon" and more.
Now, imagine rocking out to this music while perusing Cavalry Court's four-acre courtyard, pool and Canteen bar. "Cavalry Court offers outdoor fun, lawn games, complimentary bicycles, fire-pits, an outdoor swimming pool, and more!" says Barber. "Support the Texas music scene and enjoy live music."
For those who have a passion, or even a passing fancy, for music straight from the heart of Texas, then feel free to come on down to Cavalry Court and sit a spell. "Guests can plan an escape to our College Station hotel and create memories that will last a lifetime," Barber adds. "Cavalry Court blends relaxed luxury and modern amenities with the Timeless Hospitality® that Valencia Hotel Group is known for."