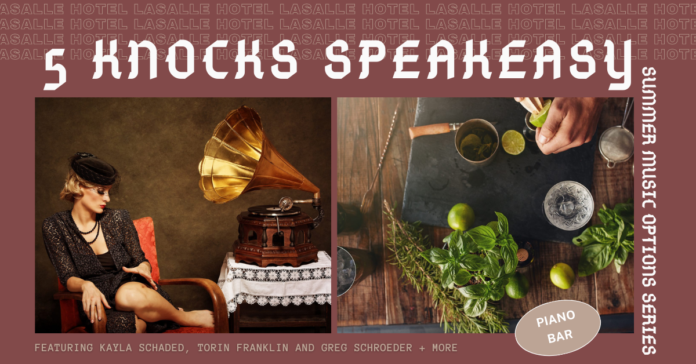 Cigar smoke fills the air of the dimly lit bar as ambient music and excited conversation drifts through the room. Women wander in flapper dresses and the sharply dressed bartender greets entrants with a nod. Welcome to the 5 Knocks Speakeasy, the basement bar of the LaSalle Hotel in Downtown Bryan, and the first venue we'll be telling you about in this summer music series.
Of course there's plenty of outdoor music in summer, but some of us don't exactly dig the outdoor scene. Air conditioning, anyone? And then there's the style of music you're after. In direct contrast to the chaos and loud electronic beats often found on Northgate, 5 Knocks sticks to the chill tunes of Americana, blues and roots befitting the prohibition era atmosphere. Better yet, they even have live performances every Friday and Saturday night. These shows last from 9 p.m. to midnight with only a $5 cover fee.
Featuring musicians like Kayla Schaded, Torin Franklin and Greg Schroeder, 5 Knocks pulls the best talent from across the state. Their booking manager, Bill Allen, is in charge of finding talented musicians across Texas and America for the weekend concerts. Allen explains that musical guests at the 5 Knocks are screened and reviewed to ensure high quality performances that fit the speakeasy atmosphere. This isn't the only way they capture that feeling though.
Paying homage to prohibition era bars, 5 Knocks prides itself on housemade ingredients and cocktails that align with those found in the original speakeasies. They did their research so that they can keep the authentic prohibition drinking experience alive. They even limit capacity so that it feels small and exclusive like these bars would have been in the 20s.
"It's not like any other bar in town," Allen says. "It has a distinctive vibe that is casual but feels upscale."
If this sounds like your thing, then come join in on the fun! Just don't forget the five knock password to get in.