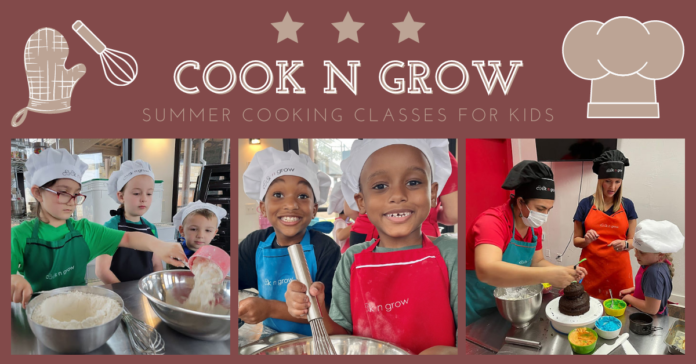 School is out and summer is here! You know what that means… time to find ways to keep the kids from going stir crazy at home! Local business Cook N Grow is offering not one, but two children's cooking camps during the first week of summer designed to teach your kids skills they can take home with them—and keep them going in their own kitchens!
Cook N Grow was started in 2014 to help kids learn more about food. Their curriculum is founded upon interactive learning experiences that teach kids cooking and baking techniques, table etiquette, and measuring skills. From May 31 to June 4, Cook N Grow will be hosting two different classes: "CookTok" and "Cupcake Wars," designed for kids ages 4-12. "CookTok" is designed for kids who love watching cooking videos on TikTok and like making videos themselves! Parents will have the opportunity to share their child's cooking TikToks for even more fun.
The second class, "Cupcake Wars," is modeled after the TV show that its namesake comes from. Kids will learn specialty skills like piping, decorating, and even the importance of teamwork. Kids will get to flex their creativity with a new cupcake challenge every single day of the week-long camp. Bring on the sprinkles!
"CookTok" will be held from 9 a.m. to 12 p.m. and "Cupcake Wars" will be from 1 p.m. to 4 p.m. Both Cook N Grow camps will take place Mon, May 31 to Fri, June 4 in College Station. Each individual class, morning or afternoon, is $45, or you can purchase the Mon – Fri camp experience for either "CookTok" or "Cupcake Wars" for $200. Early drop off and late pickup can also be arranged for an additional fee. For more information visit Cook N Grow's website.
If your kids can't make it to Cook N Grow's cooking camps this week, check their schedule to see the other camps and classes they have available all summer long! Their classes cover a variety of topics and themes including a mystery meal, international cuisine, and even one specifically for chocolate lovers. It's the perfect chance for kids to find out what they love to cook… and eat!
For more information, visit Cook N Grow's website.