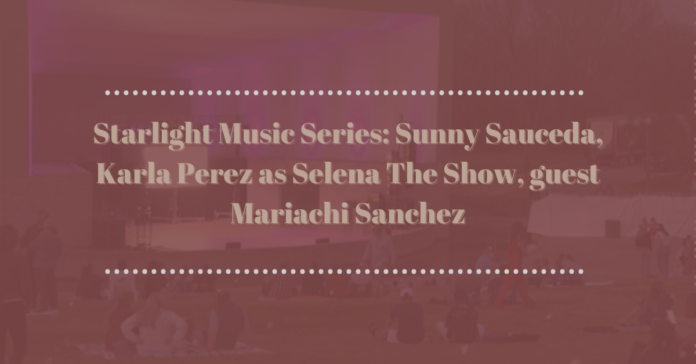 There's nothing like watching the sun go down and the stars come out, especially if those stars include an accordionist and a tribute artist. Live music fanatics near and far can gather around the moat at Wolf Pen Creek Amphitheater Saturday, June 4 for the City of College Station's next Starlight Music Series concert. Best of all, you and your favorite people can enjoy this stargazing show for free.
Sunny Sauceda and Karla Perez as Selena The Show with guest Mariachi Sanchez will perform for the fourth of the five show 2022 Starlight concert series. This event continues the two-decade-long tradition serving all music lovers in BCS.
Singing, accordion-playing, cowboy-hat-wearing Sunny Sauceda commands the stage with his strong voice and energizing musicianship. The unique combination of this Tejano singer's skills add up to one big entertaining show like you've never seen.
Karla Perez's shows are designed to be the closest you can get to once again enjoying Selena, the Queen of Tejano Music herself. After years of shows, Perez is considered one of the top-rated Selena tribute singers in the United States and Mexico. Her style, sound and nature seem to captivate you as she recreates the stage presence Selena was known for.
Mariachi Sanchez is the cherry on top of this live-music summer Sunday. This mariachi band will melt your heart and captivate your attention with their near-perfect harmonies and classic sound, making this outdoor evening performance your most memorable mariachi experience.
Remember to bring your comfiest blankets and lawn chairs, but please leave your pets at home. Pack up a picnic, without any glass containers, or come hungry because food trucks will be there! Early birds can pick their favorite spot starting at 6 p.m. The music begins at 7 p.m.
Enjoy this coming Saturday sunset set to music one of the last Starlight Music Series nights of the year!