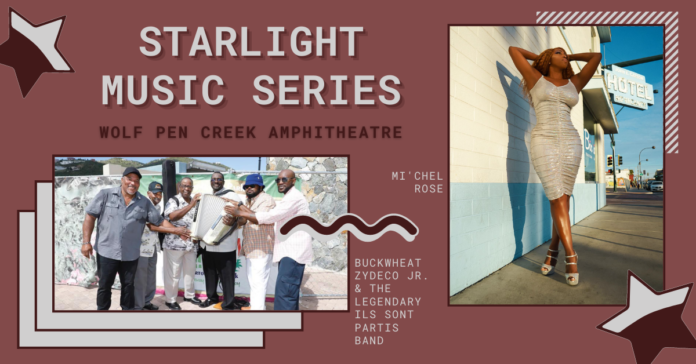 Top off your coolers, dust off your lawn chairs and get ready to spend a night under the cool summer sky as you catch the last installment of the Starlight Music Series at the Wolf Pen Creek Amphitheatre. Featuring Buckwheat Zydeco Jr. & The Legendary Ils Sont Partis Band with Mi'Chel Rose, this last concert will keep you dancing on Saturday, June 12 at 7 p.m.!
Buckwheat Zydeco Jr., son of legendary zydeco musician Buckwheat Zydeco (senior), began fronting the Ils Sont Partis Band on accordion after his father passed away in 2016. With a festive combination of modern blues and traditional Louisiana French music, zydeco is rooted in Creole culture and encompasses a wide range of southern musical styles, gaining popularity for its rich history and diverse sound.
Despite having had large shoes to fill, Zydeco Jr. hasn't let the group skip a beat as he is continuing to introduce the Grammy award winning band to fans all across the world. Having been by his father's side during the prime of his music career, no one knows the industry and genre better than Zydeco Jr. as he watched his father play countless shows and festivals, even performing alongside other legendary musicians such as Willie Nelson and Eric Clapton.
Joining Zydeco Jr. and the Legendary Ils Sont Partis Band for the night is Mi'Chel Rose, who has wowed audiences across the world with her powerful stage presence and vibrant personality. Her versatility shows in her musical journey through various genres, including R&B, hip-hop and now EDM. From performing in local venues at 17 to performing at President Barack Obama's second Inaugural ball with Charlie Pride, Rose has made her name known in the music world and is ready for more spotlight with her latest single "321."
Gates will open at 6 p.m., giving you the chance to settle in before all the action starts an hour later. Make sure to check out the venue's rules and details about what items are allowed inside the amphitheatre by clicking here. No need to worry about purchasing tickets beforehand either: tickets are free! Get out under the stars to enjoy one last concert of the Starlight Music Series, surrounded by good company and a lineup that will be sure to make a memorable night!
Sources
BUCKWHEAT ZYDECO, JR AND ILS SONT PARTIS BAND – Savannah Jazz
https://miccroses.com/?fbclid=IwAR2SXR5s5nOtUfsZMcrxp8nXKA7fthbl2gozttQrSXHg3SSX9xGQjDxg-LQ