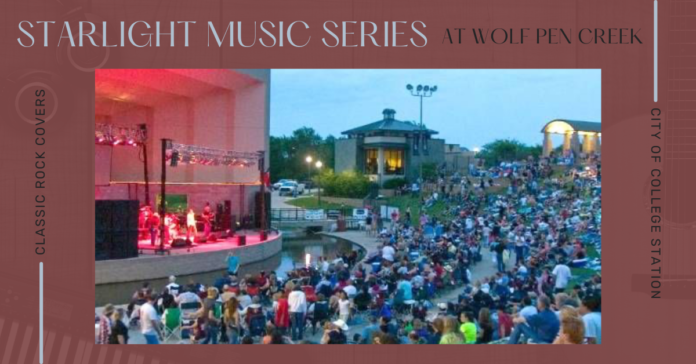 If you live near Wolf Pen Creek, you're probably used to hearing strains of live music from the amphitheater on summer weekends, and this summer will be no different! The Starlight Music Series is an ongoing, free event at the Wolf Pen Creek Amphitheater, and the next concert will be this Saturday, May 22. If you're looking for a relaxing way to spend a summer evening, Queen Nation and Infinite Journey will be there to serenade you with some classic rock covers!
Queen Nation, as may be expected, is a Queen tribute band that is known for their endless striving to recreate the look and sound of the classic band, including accurate period costumes and authentic characterizations of the original members. In case you're worried that nobody can live up to Freddy Mercury's talent, rest assured that Gregory Finsley has the task well in hand as a concert pianist with a tone that uncannily matches Mercury's. Formed in 2004, this band has had plenty of time to perfect their show, so be prepared to be wowed by not only their musicianship but their attention to detail. And you'll need to do vocal warmups so you're ready to sing along to your favs like "We Will Rock You," "We Are the Champions," "Bohemian Rhapsody" and more. Because what's a tribute for except to take you back to the days when you sang all the words into your hairbrush while getting ready for the day?
Infinite Journey, as their name suggests, is a Journey tribute band that focuses on the iconic sound of their namesake. Based in Dallas, the band has enthralled audiences across the country since 2012, and with Donovan Duke singing lead vocals, you'll think it's really Steve Perry. Infinite Journey has opened for a number of rock and pop legends such as Starship, Kool & the Gang, and Sister Sledge.
So bring your lawn chairs and blankets, coolers and picnics, starting at 6 p.m. to get ready for the show starting at 7! Keep in mind that pets are not allowed. Check out the City of College Station's website for more info.
Sources: