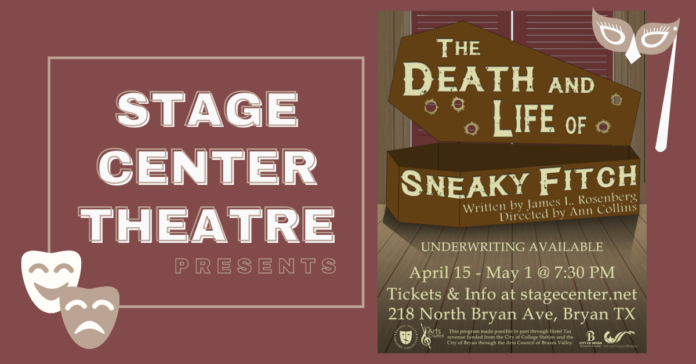 The StageCenter Theatre is calling all to come out and see their production of "The Death and Life of Sneaky Fitch."
Set in the western town of Gopher Gulch, the play follows Sneaky Fitch's rise from complete waster to complete man about town after a doctor gives him special "medicine." Fitch dies, but to everyone's surprise, he awakens and now is invincible. Unpleasant in life and even worse after gaining immortality, no one has the courage to stand up to him, so of course he takes over as sheriff, mayor and town banker.
Getting its start in 1964, The StageCenter Theatre has brought plays, musicals and more to the BCS community at an affordable cost, providing exciting productions completely run by volunteers.
Suitable for all ages, "The Death and Life of Sneaky Fitch" is a rollicking good laugh done in the best old-time western style. The production runs from April 22 to May 8. Tickets start at $10 and can be purchased here. Doors open at 7 p.m and face masks are required to be worn throughout the entire production.
Sources: