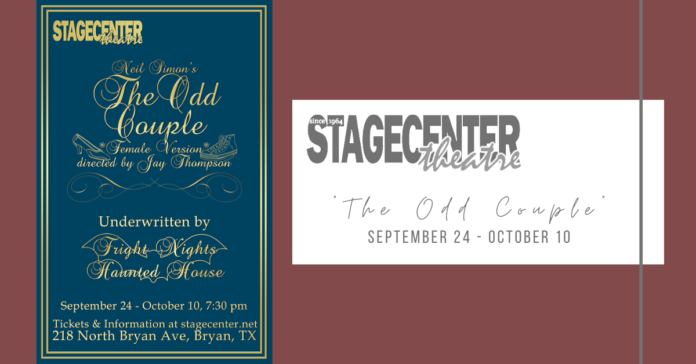 Texas is in the middle of its "weather roulette" time of year, so if you're not a fan of unexpected rain, cold fronts vs. random 90 degree days, escape from the outdoors and grab a seat at StageCenter Theatre! Their latest show, the female version of "The Odd Couple" by Neil Simon, will be running from Sept. 24 through Oct. 10, so there's plenty of opportunities to catch a showing.
"The Odd Couple" was originally written with male leads, but Simon's own adaptation of his blockbuster play now features Florence and Olive, two great friends turned polar opposite roommates. Filled with butting heads and lots of laughs, this stage show of hilarious hijinks is the perfect remedy to a stressful week.
The StageCenter Theatre in Bryan is dependent on the time of volunteers and the financial contributions of businesses and patrons, so a ticket purchase to any of their shows goes back into the arts community in Bryan/College Station. Just be aware that this production of "The Odd Couple" has been given a rating of "Teen+," indicating that it has been deemed most appropriate for guests aged 13 and older.
StageCenter Theatre has a number of health and safety precautions in place, including half capacity, so be sure to grab tickets early. In addition, all guests must wear a mask for the entire time they're inside the theatre, and tickets can only be purchased online. In terms of seating, all available seats have been spread throughout the theatre in pairs, so parties of more than two will need to split up, but this ensures that all groups will be adequately six feet apart for the duration of the performance. Concessions will not be available, and guests are asked not to attend if they feel ill or have been in contact with anyone who has tested positive for COVID-19.