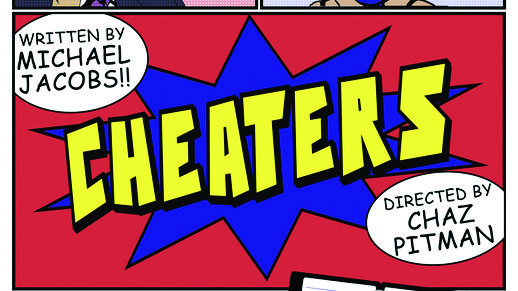 Love triangles. They can be quite troublesome. In the end, someone is bound to get hurt and many times, it's everyone involved.

In the current show at StageCenter Theater, it gets even more complicated than you can imagine.

"Cheaters" follows lovebirds Allen and Michelle, who have been living together for eighteen months. This is the first adult relationship for either of them, and while Michelle is ready for the next step, Allen has his doubts. Michelle winds up travelling home to visit her parents, hoping for advice on the matter.

Things quickly turn from tricky to severely complex when it is revealed that Michelle's father has been having a six-month affair with Allen's mother, and Allen's father has recently shacked up with Michelle's mother. The connections are only discovered when the three couples agree to have dinner to see the youngest pair in the right direction.

Written by Michael Jacobs, "Cheaters" is a comedy full of hilarious characters and witty dialogue. It's hard to make a play about infidelity funny, but Jacobs managed to make the situation work with incredible humor. "Cheaters" will have the audience laughing so hard they forget the severity of the subject matter.

Chaz Pitman will serve as director for the StageCenter presentations, with the play being funded by proceeds from the Fright Nights Haunted House.

The show kicks off Thursday, Sept. 12, at 7:30 p.m., with shows at the same time on Friday, Sept. 13, and Saturday, Sept. 14. The play returns the following week, Sept. 19-21, at 7:30 p.m., but also includes a Sunday matinee on Sept. 22 at 2 p.m. Performances resume on Thursday, Sept. 26 at 7:30 p.m., but will not run on Sept. 27 or 28 due to the Texas Reds Festival. A final performance will run on Sunday, Sept. 29, at 2 p.m.

"Cheaters" will be performed at the StageCenter Theatre at 218 North Bryan Avenue. Tickets and more information can be found online at www.stagecenter.net. Don't miss out on all the laughs!