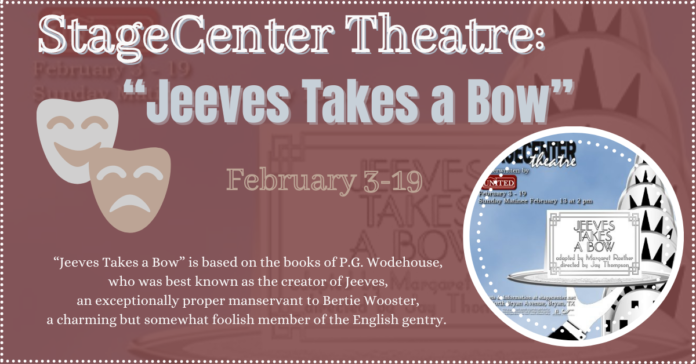 Have you been looking for a reason to get out with your friends and share laughs for a couple of hours? Starting Feb. 3, "Jeeves Takes a Bow" will be coming to StageCenter Theatre in Bryan, and with Jeeves, the laughs never end.
"Jeeves Takes a Bow" is based on the books of P.G. Wodehouse, who was best known as the creator of Jeeves, an exceptionally proper manservant to Bertie Wooster, a charming but somewhat foolish member of the English gentry.
Taking place in the 1930s, the play follows Wooster on an adventure to America with Jeeves in tow. Along the way, the two run into trouble with a gangster and a showgirl. It's up to Jeeves to help Wooster out of his risky predicaments, but can he do it?
Jay Thompson, show director for "Jeeves Takes a Bow," says those who enjoy verbal jousting, physical humor, and even romantics will love the storyline.
"It is brilliantly written, with witty quips mixed with physical humor," says Thompson. "The tongue-in-cheek look at the British aristocracy and how out of touch and clueless they are will get our audience to make direct comparisons to our own society."
Thompson goes on to say that the cast is made up of both veteran and youthful up-and-coming actors, who melded seamlessly to bring out ingenious ways to help tell the story.
"Stories of Bertie Wooster and Jeeves has been a wonderful distraction for me for years," Thompson says.
From Feb. 3 to Feb. 19, the performance will begin at 7:30 p.m. with the exception of one matinee performance on Feb.13 at 2 p.m. You don't need to worry about breaking the bank, as tickets range from $10 to $15. The theatre will be at 100% occupancy, therefore masks are encouraged but not required. Arrive 15 minutes prior to the curtain opening, and don't be late, as you won't be let in 10 minutes after the start of the show.
You can locate StageCenter Theatre on North Bryan Avenue. To keep up with StageCenter Theatre and upcoming performances, visit their Facebook page.