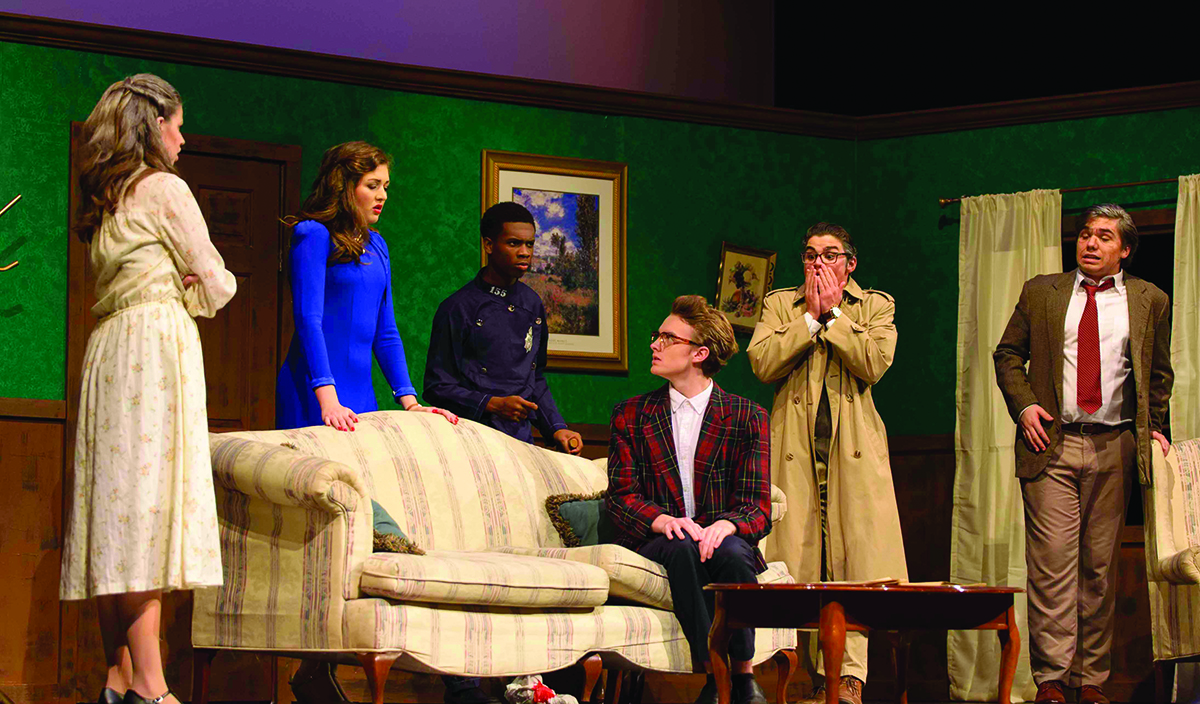 Have you ever been swept away by an Agatha Christie mystery? If so, you're in for a treat with this spoof of her work in StageCenter Community Theatre's latest offering. Praised for its humorous ambiance, the setting of "Murdered to Death" is a 1930's English manor where all the characters embody "whodunnit" stereotypes typical of the English gentry at the time.
Immerse yourself in a world of suspense at the premiere of "Murdered to Death," with performances available on Thursday, Friday and Saturday during April 4-20 at 7:30 p.m.
Written by Peter Gordon and directed by Evelyn Callaway, "Murdered to Death" tells the tale of Inspector Pratt, a man whose incompetence bests his ability to solve the murder of the house's owner. As the play progresses, Pratt doesn't stand a chance. With the murderer still looming "will the miscreant be unmasked before everyone else has meet their doom, or will the audience die laughing first?"
Since its establishment in 1964, StageCenter has been hailed as an exciting addition to the Brazos Valley arts community. Jaw-dropping productions have reflected its five-decade history and make for a perfect outing for all ages. Located in Downtown Bryan, StageCenter Theatre serves as a community hub, where all are encouraged to attend and partake in the fun.
For Thursday performances, admission is $10 for all ages. Tickets purchased for Friday and Saturday showings adhere to the following prices- adults ($15), students with a valid ID ($12) and senior attendees ($12). Tickets can be purchased at the StageCenter Community Theatre box office beginning at 7:00 p.m. on designated show nights. However, patrons are encouraged to purchase tickets online in advance on the theatre's website at https://bit.ly/1I8TRV7. Season ticket holders are asked to contact the theater at least two days prior to the show date to secure a ticket by calling (979)-823-4297 or by emailing StageCenter at info@stagecenter.net. All StageCenter ticket purchases are non-refundable and non-transferrable.
The production will begin promptly at 7:30 p.m., and the doors will open at 7 p.m. Guests are asked to arrive at least fifteen minutes prior the start of the show, and patrons will not be seated after 7:40 p.m. as a courtesy to other attendees. In the event that the production sells out, tickets not claimed by 7:25 p.m. will be resold to those who have been placed on the theatre's waitlist. In order to be placed on the waitlist, patrons are encouraged to visit the box office on the designated show date prior to 7:25 p.m. StageCenter Community Theatre reminds waitlisted guests that seating accommodation for an entire party is not guaranteed.
For more information, visit StageCenter Community Theatre's website at https://bit.ly/1I8TRV7.