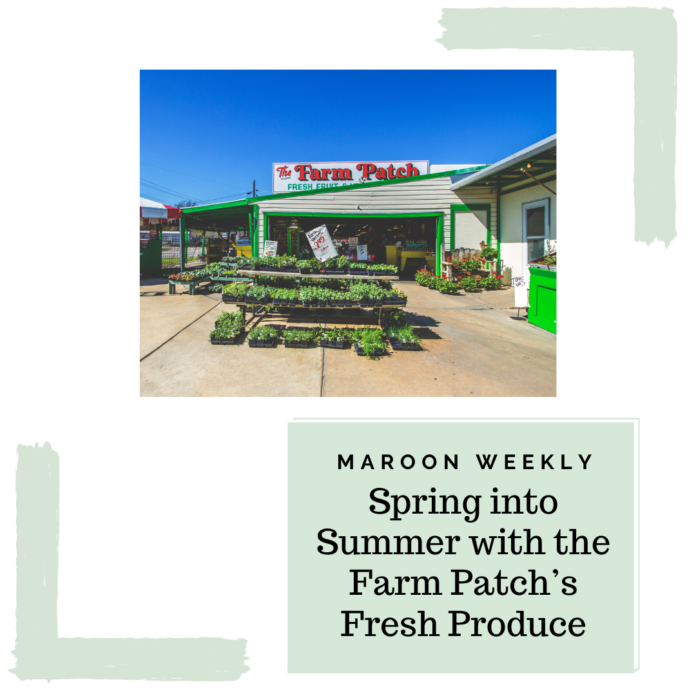 With summertime just around the corner, everyone is reaching for those delectable fruits and veggies to snack on. Munching on a cool slice of juicy watermelon makes the hot Texas sun's rays sting a little less, and as we're still dealing with the pandemic, laid back is exactly the vibe we're going for this summer!
For those crisp vegetables and jewel-toned fruits, step on down to the Farm Patch Market on the corner of South College Avenue and Pleasant Street. A Pinterest-worthy farmers market, the Farm Patch is widely recognized for their fresh produce, budding flowers, and 'old market' appeal. They support local farmers by selling their products in their open-air store for fair prices with that sweet small town hospitality.
Along with scrumptious produce freshly picked from local farms, Farm Patch also offers beautiful landscaping plants, barbeque pits, and 'specialty items' such as fruit baskets, party trays, freshly baked pecan pies, and their famous chicken salad. It's made from a recipe that's been handed down through generations, and kept stocked in their freezers and can be ordered to feed gatherings. If there's a hard to find item you're specifically hunting for, their Import Room holds special requests that Farm Patch has tracked down from around the globe. From Turkey to Japan and England to Italy, you'll find the best products from around the world.
When the Scarmando family realized a need for fresh produce in the Bryan/College Station area, it didn't take long for them to found the Farm Patch market in 1974. Starting out as a cute produce stand, the word of the quality fruits and veggies spread quickly around town and the Farm Patch was soon one of the leading sources for BCS produce.
Voted Best Garden/Nursery for 2019 in the Eagle Readers Choice Awards, the market is excited to have a helping hand in the plant nursery to help customers have a seamless experience:Anne Deleon. Anne is a respected Master Certified Nursery Professional who is well prepared to answer all plant-related questions and concerns. The Farm Patch unfortunately had to cancel their Memorial Day plant sale that many of their customers look forward to, but they are hoping to revive the sale in upcoming weeks. To keep up to date on when the sale will be rescheduled, visit their Facebook page.
Farm Patch is a hometown market that is devoted to their customers and their experience. Whether a customer is on the hunt for a foriegn treat or needs advice on which plants will best survive in Texas conditions, Farm Patch is ready to help their customers! To learn more about the Farm Patch market, visit https://bit.ly/36yUtbF.
SOURCES:
https://bit.ly/2A9My8E