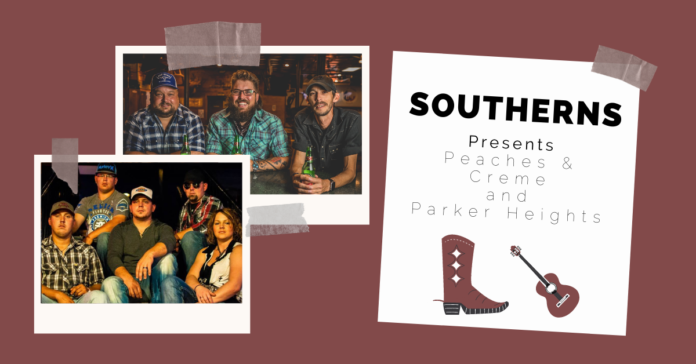 Are your ears in need of loud, live music? If so, listen up—we have a local concert for you to attend this Friday night! Get ready to sing along with Peaches & Creme and Parker Heights at Southerns on Jan. 22. The show begins at 9 p.m., with Parker Heights opening the night and pleasing your ears before Peaches & Creme takes the stage at 10 p.m.
The BCS based, three-member band Peaches & Creme is known for covering 90s country songs, so 90s babies, this one's for y'all! Made up of Jody Bartula on guitar and vocals, Joey Pruski on bass and vocals and Seth Jenke on drums and vocals, this band is no stranger to Southerns. In fact, Bartula says, "Our favorite thing about playing Southern's is the hospitality of the venue staff and the themed shots, and you will definitely want to give the Peaches and Creme shot a try when you come to the show!"
Parker Heights is a local College Station, five-member band. Fun Fact—four of the members are siblings—how cool is that? The band's music is a mix of country, soul and a bit of rock n' roll. If that's your type of jam, get ready to put your boots on and grab a dance partner!
If you don't have dinner plans yet, you can start the night at Southerns early for a guys' or girls' night out. Don't miss out on tasting Southerns' juicy burgers and fries! Sip the night away with your favorite cocktail or cold beer while enjoying the tunes. Your party can reserve a table or booth if you'd rather be seated for the performances. With bottle service and a private server included in the VIP Booth reservation, it's a perfect option for celebrating a special birthday with a group of friends! Call ahead for reservations.
Southerns boasts much to enjoy—food, drinks, and live music, what's not to love?
Tickets for Friday's show are $10 if you buy in advance and $15 at the door. Click here to purchase your tickets!
Source: