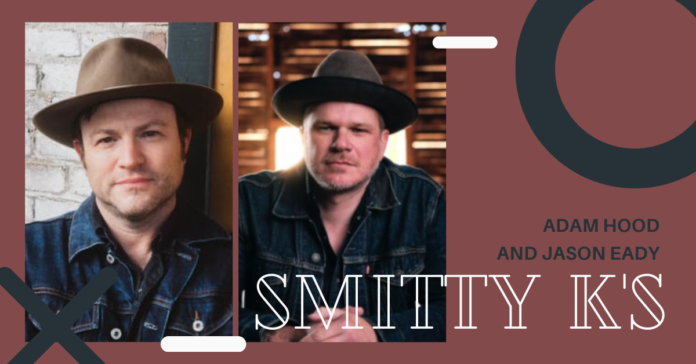 Saturday nights in College Station aren't complete without the twang of electric guitars and a fresh pair of cowhides chipping away at the dance floor. You only get one Saturday night before heading back to the office, so there's no excuse why you shouldn't treat yourself to a couple of cold brews and a good time. Sounds like a plan? Then head out to Smitty K's this Saturday, August 7 at 8 p.m., to catch a song swap with Adam Hood and Jason Eady!
Hood hails from small town Alabama, and with more than a decade of experience as a performer and songwriter, he's equally wowed audiences and some of country music's biggest names with his unique blend of country, soul and Americana. Still reaping the fruits of his labor from his highly successful 2018 album, "Somewhere in Between," Hood continues to shed light upon his working-class roots and drive for honest storytelling in shows spanning across the southeast.
Swapping songs with Hood for the night is fellow country music veteran Jason Eady. With influences ranging from his own family to honky tonk legends such as Willie Nelson and Merle Haggard, this Mississippi-bred, Texas-based artist has earned his rightful place at center stage with hits like "Cry Pretty" and "Lonesome Down and Out." Much like other artists "reemerging" from the pandemic, Eady has his sights set on a ranking in the top charts with his newest album, "To the Passage of Time," releasing late August.
Tickets for the show are $30 and can be reserved here. But don't wait too long, seats are assigned, so make sure to act soon to get a spot up front!
Go ahead, turn off your phone and leave all your stress behind at home while you come on out for another round of live music!