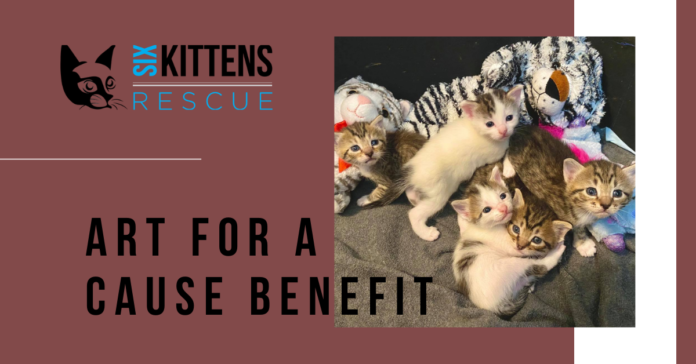 Citizens of the Bryan-College Station area are all about selfless service, community, and supporting local business. For those who take pride in these characteristics, the Art for a Cause benefit hosted by Six Kittens Rescue on November 15 is the perfect blend of all three!
Six Kittens Rescue is an adoption organization that is dedicated to reducing the feral cat population in Bryan, Texas, as well as preventing the spread of infectious diseases common in these strays. When asked about why the founders started this organization, they said they "wanted to give back to the community through outreach, education, and service. They found a small group of people who were also passionate about animals and took steps to become a bona fide non-profit rescue." Although they do not have a set location, contacting Six Kittens Rescue will more than help get you started on adopting, donating, or even volunteering your time to the care of these animals. According to their official Facebook page, this October marks their organization's second birthday and they've "managed to adopt 132 kittens so far this year! Which is incredible considering [they] are a donation based and volunteer run rescue."
If local artists fall beside cats in the list of things you love, then another way you can donate to the foundation is the upcoming Art for a Cause benefit, a virtually held silent auction in which all of the diverse art has been donated by local talent who are supporters of the Six Kittens Rescue cause. Due to COVID-19 concerns, the details of the auction have changed several times, but to stay up to date, all the information can be found on the Six Kittens Rescue Facebook page. The official run time of the auction is from 5-8 pm on Sunday, November 15, however for those interested in seeing the art beforehand, there will be an in-person preview at Parker Crossing on the same day from 2-5 pm. All bidding will happen via Facebook comments, and bidders will have 24 hours to pay for their piece after bidding has concluded, but failure to pay will result in the piece being forfeited to the next highest bidder.
Mark your calendars for November 15 to come out and support our cute, furry friends!
http://www.sixkittensrescue.org/
Six Kittens Rescue – Home | Facebook