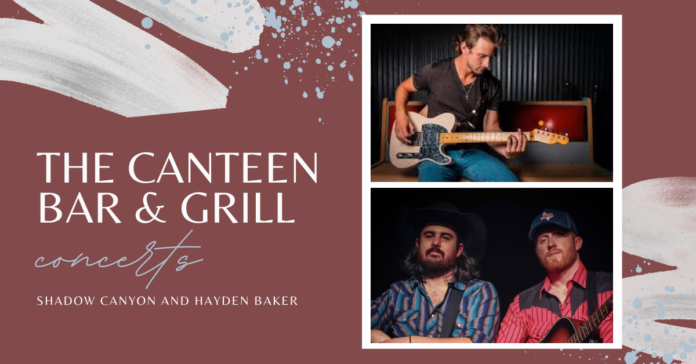 Wow—this month has flown by—February is just around the corner! End the month right by raising a glass for more concerts in Brazos County. The Canteen Bar & Grill at Cavalry Court has two upcoming courtyard shows featuring Shadow Canyon and Hayden Baker! Friday, Jan. 29 at 7:30 p.m. Shadow Canyon will take the stage, and Hayden Baker is up the next night, Saturday, Jan. 30 at 7:30 p.m.
Shadow Canyon is no stranger to BCS or The Canteen Bar & Grill. The local 90's country music duo brings authentic country music, vocals, and instruments together to put on a show for all to enjoy. "We enjoy playing at The Canteen! There is always a great audience to play for, and the staff is super friendly," says Shadow Canyon. Get ready to sing your heart out to some 90's country this Friday night!
Singer/songwriter and guitarist Hayden Baker was born and raised in Katy, Texas. At the age of 15, he picked up a guitar and fell in love with country music. Now look at him—opening for Willie Nelson, performing in front of large audiences, creating an energetic atmosphere and about to graduate from Texas A&M. Baker says, "Us Aggies love real, authentic country music. It's always a good time playing for crowds like that." If you want to hear Hayden's vocals and guitar solos live this Saturday, you know where to go!
There's nothing better than free concerts filled with three hours of great music in the Century Square neighborhood! Put these dates on your calendar if you're looking for some entertainment this weekend. Plan a night on the town with friends and family, get your shopping fix during the afternoon in Century Square, then head to The Canteen Bar & Grill for dinner and drinks before the show starts. It'll be a weekend to remember with fascinating music, guitar solos, games in the courtyard, and whatever munchies or cocktails you're craving!
Sources: