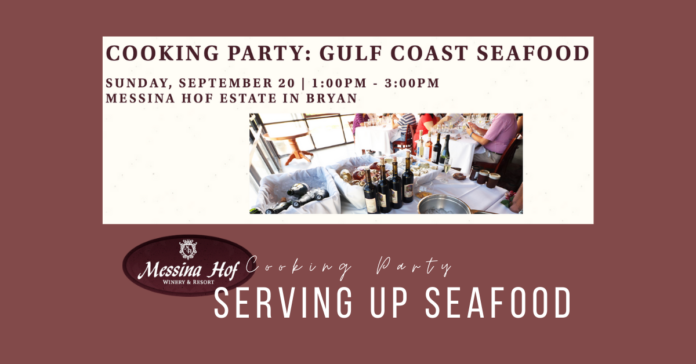 Messina Hof Winery hosts extravagant and delectable cooking dinners monthly, and this month is no exception. Messina Hof is hosting their Cooking Party featuring dishes full of gulf coast seafood on Sunday, Sept. 20 from 1-3 p.m. at their estate in Bryan.
The Messina Hof Estate has been bottling wine for over 40 years and prides itself on their three cornerstones of family, tradition, and romance, which have led them to producing gold-medal winning wines and becoming a tourist destination. A well established business in the Brazos Valley community, you are sure to be in good hands with Messina Hof.
Messina Hof's cooking parties focus on specific cuisines or techniques. For the Gulf Coast Seafood party, you'll be kicking off your night in the kitchen by whipping up crab cakes and enjoying them paired with a Sparkling Brut. The appetizer will be followed by grilled yellow grouper as the main entree, selectively wed with one of two wines depending on the guest's taste—Messina Hof's Lepard Vineyard Chenin Blanc, or their Private Reserve Pinot Noir. To cap off the night, indulge in a decadent turtle cheesecake for dessert complimented by Messina Hof's Tawny Port.
No need to sweat if you're just an amateur chef—this class covers beginners skills to help you keep up in the kitchen. On the other hand, are you feeling pretty confident in your culinary knowledge? For the pros, you'll get to enjoy a night full of tips and tricks about spices, cuts of meat, tools, and even more. Each guest in attendance will receive a take-home recipe booklet AND you will have an opportunity to win some snazzy culinary door prizes.
Messina Hof is also promoting a special offer: attend six classes and save ten percent on upcoming cooking demos and become an honorary vintage sous chef. Better yet, attend 12 cooking classes and receive an official Messina Hof chef's coat.
Guests are required to wear masks unless they're eating or drinking, and socially distant practices will be in effect. Tickets are $69.95/person plus tax and gratuity. And if you can't make it to this month's cooking party, Messina Hof hosts this event once a month, so you'll always have a seat at their table.
To purchase tickets, go to https://bit.ly/2R1iIZ2.
Sources: Phone call with Messina Hof