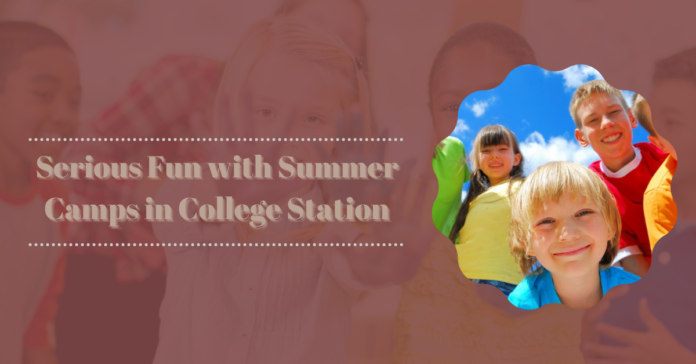 It's summer! Camp time is here! And College Station has lots of options this summer, so you and your littles won't have to travel far or spend the night in order to get the full camp experience. Here's a brief overview of the local camp options this summer.
Lick Creek Nature Park offers several skill-building nature camps throughout June and July for ages 7-12. Camps run either 8 a.m. – 12 p.m. or 1-5 p.m. four to five days a week. You can even stack two camps in one week with a supervised lunch break in between. Camp themes vary from Nature Detectives to Outdoor Wilderness Survival Camp to Galaxy Quest and many more. Click here to see all of the options and sign up for your favorites.
Lincoln Recreation Center provides a longer, full-day camp through June and July for ages 6-15. Sign up for the first or second half, or both with a week's break in between for vacation. This well-rounded camp provides field trips, creative arts, outdoor activities, and character building activities. Lincoln Recreation also offers several shorter camps including a cooking class Monday nights for kids 8-12, and Monday-Friday classes for ages 3-13, including Speed and Agility Skills Camp and Basketball Skills Camp. Click here to sign up and explore the options. You'll even find several camps and classes for adults.
Southwood Community Center will hold two youth camps to consider. Kids 6-15 can learn Taekwon-Do through a week of morning classes with sixth-degree blackbelt instructor Jose Aponte. Secondly, CampAble welcomes kids 6-12 with disabilities for individually adapted activities on Tuesdays and Thursdays through June. Learn more about these camps and sign up here.
Steven C. Beachy Central Park will host Football Skills Camps for kids 3-13. Camps last less than two hours on Monday-Friday mornings. Football players will improve their skills and sportsmanship in one week of camp. Littles will learn the fundamentals of football and important aspects of the game, building character and skills needed to unlock their potential athlete. Caregivers must stay for the duration of the camp for the youngest ages and are invited to join in for the older ages for a week of bonding and growth. Sign up and learn more here.
Whether for child care or just for fun, your kids will make lifelong memories at these summer camps without having to sleep away from home. Find your child's favorites and sign them up today!