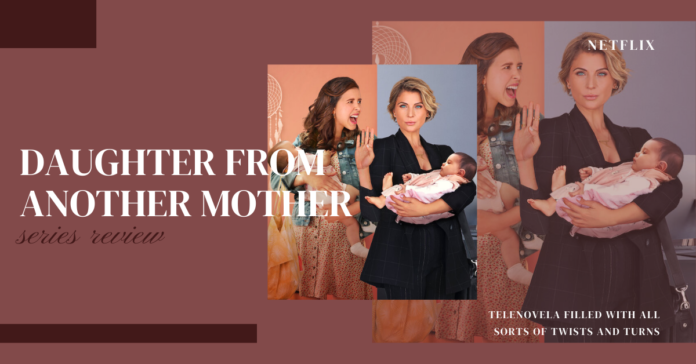 You won't want to miss this new series on Netflix created by one of the authors of "Jane the Virgin," Carolina Rivera. The original title of the series is "Madre sólo hay Dos," since it's a Mexican drama-comedy series, but you can find it on Netflix as "Daughter From Another Mother" in the U.S. The series was released on Jan. 20, 2021, and is a weekend binge-worthy series with nine episodes.
The series follows two main women, Mariana (Paulina Goto) and Ana (Ludwika Paleta), who just discovered their daughters were accidentally switched at birth. The mothers are not fond of each other at first but eventually learn to like one another for their daughters' sake. Living adjustments become complicated for the two mothers and their families, but they make sure to create a loving, as normal as possible family atmosphere for the baby girls.
This series is a true telenovela filled with all sorts of twists and turns, from work-life to parenting, to lovers. But, we can't give it all away, so you'll have to watch it for yourself! After watching the first episode, you won't want to turn it off. It's a show you can finish in one day, with each episode lasting 40 minutes. Subtitles make it easy if you don't know Spanish.
If you have ever seen the shows "Switched at Birth" and "Jane The Virgin," the "Daughter From Another Mother" series would probably be a mix of the two regarding the plot and telenovela drama. With Rivera as creator, it's no wonder it's hands down one of the best drama-comedy telenovelas.
The series is rated TV-MA due to explicit language and sexual content. Wait until the kids aren't around to watch the show, and have some you-time! Cuddle up this weekend and binge season one, and hopefully, a season two will be coming soon!
Sources: