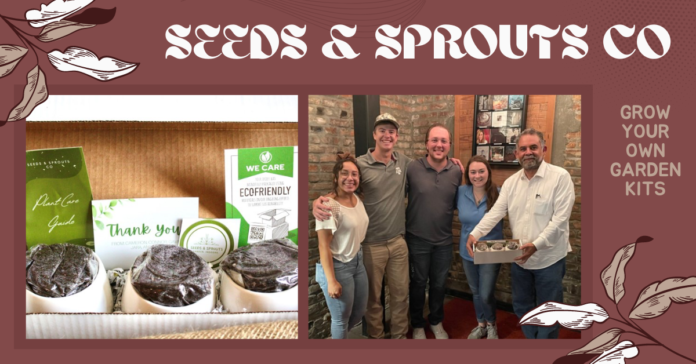 With the holidays coming right around the corner, Seeds & Sprouts Co has a perfectly unique holiday gift idea for you and your friends. Created by five masters' students in Texas A&M University's Mays Business Program, a kit from Seeds & Sprouts Co brings you everything you need to grow a tiny potted garden in any setting, even on an urban windowsill!
Purchase these special, grow your own garden kits for the next few weeks until Nov. 24, either online or at the McFerrin Center Student Marketplace on Nov 4 from 5-7 p.m. and at First Friday in front of the Grand Stafford Theater in Downtown Bryan on Nov 5 from 5-8 p.m.
Each seed kit blossoms into flowers, herbs or plants you can brew tea with, or you can create your own custom kit and mix them up. Not only do the seeds that come in your kit have high germination rates, but every part of a Seeds & Sprouts Co kit is recyclable, even the box that arrives at your door. Inside, you'll find everything you need: seeds, soil and a set of petite ceramic pots, along with instructions on how to care for the plants. With the easy to follow guide, growing a small garden is not only friendly for all ages, but also fun!
Part of the requirement for the M.S. Business program is to create a business and run it for a few months, and Cameron Kelly, Gavin Corley, Jara Go, Mariana Pedroza and Connor Whisenant wanted to create a business that fueled their passion and was also eco-friendly and interactive. But Seeds & Sprouts Co's mission goes far beyond itself by giving back to the Bryan community. Their Head of Operations, Cameron Kelly, describes their product as "the gift of giving" because all the proceeds go to Bryan's Distributed Urban Farming Initiative (DUFi). DUFi was started to create gardens that serve both as food sources but also beautiful community spaces to be used for parties, kids camps, concerts, and demonstration gardens. But with the pandemic, DUFi was shut down. Now, by contributing their proceeds and time, Seeds and Sprouts Co hopes to help get that initiative up and running again.
Kelly says the reason that they chose to give everything to DUFi is because "we wanted to find a project that matched our vision and mission. ​​We also wanted those growing our plants to know that their purchase contributed to the growth of the accessible green space for the entire community to enjoy. Our team wanted our product to be a part of something BIGGER than ourselves." By partnering with DUFi, Seeds & Sprouts Co can make an impact that goes far beyond a home-grown plant.
You can be part of the impact and enjoy the fun yourself by ordering a kit on their website or come to one of the events. Seeds & Sprouts Co will also hold a pop up shop on Nov. 13 in Missouri City, Texas at 10 a.m. But order soon, because Nov. 24 is the last day! Make sure to grab a Seeds & Sprouts Co gift kit before it's too late!