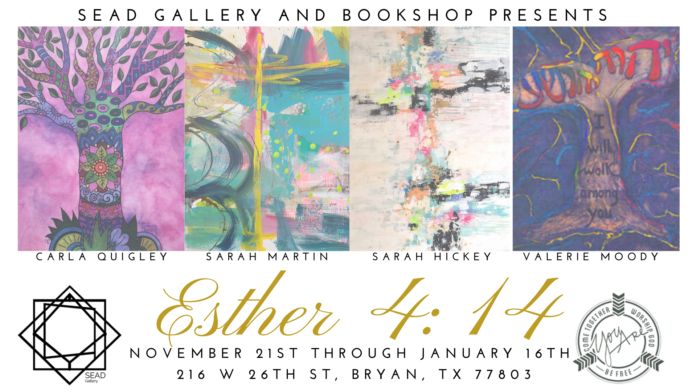 On Nov. 21, the Sead Gallery will host their opening reception for "Esther 4:14," an art exhibition presenting faith through the work of four unique, talented women.

The title of the show refers to the Biblical story of Queen Esther, who through her faith, risks her life to stand up for her people in order to save them. In chapter 4 verse 14, Esther's uncle states, "Who knows if perhaps you were made queen for just such a time as this?" reminding her that even though speaking out might cost her life, her faith and willingness, combined with her position as Queen might save thousands of Jewish people from being slaughtered.

Stepping out in faith in their own way, artists Sarah Hickey, Sarah Martin, Valerie Moody and Carla Quigley will be presenting their work in this unique show that focuses on lives lived with God at the center.

Sarah Hickey of Innerglow Art puts paint on a canvas and creates hand painted earrings for a purpose, sharing God's message through her art. For every painting she sells, a portion of the money goes toward feeding the less fortunate in third world areas of the Philippines.

Driven by faith and her passion for encouraging others to rise up, Sarah Francis Martin will display her paintings of florals and motivating messages at the gallery. Martin loves doing life and ministry with women while making Jesus famous in every part of her life.

Carla Quigley's work is designed to remind us to seek God in every moment. She specializes in Christian themed watercolor and acrylic paintings, but also offers jewelry, hand painted nativities in nesting boxes, and even greeting cards.

Valerie Moody is not only an artist but an author of five books and a television Bible teacher and public speaker. Her artwork focuses on the Hebrew roots of the Christian faith, depicting Biblical themes with vivid images.   
The November opening reception will be a night for everyone to come together and appreciate art made by women of faith while viewing their artistic interpretations, aided by the gospel music of the Carter Creek Pickers. There will also be hors d'oeuvres and wine served. The Sead Gallery and Bookshop is located in the Federal Building in Downtown Bryan.
For more information, visit https://bit.ly/2Q2GdBJ