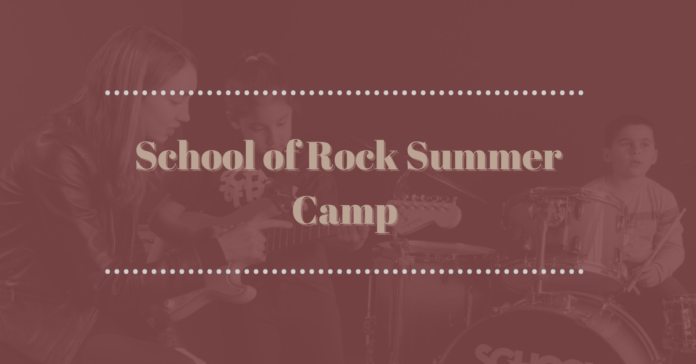 Are you tired of wasting your musical talent on Guitar Hero in your living room? Maybe you dream of playing music with your band in front of thousands of people or blowing your hometown venues away with your angel voice. Or maybe you just want to play your piano somewhere besides your bedroom. However you want to rock this summer, School of Rock Summer Camps has you covered!
School of Rock takes students from all skill levels, ages, and musical aspirations and grows them into true musicians using the patented School of Rock Method, facilitating learning in a safe and engaging atmosphere.
All camps cost $349 for the week and follow a Monday through Thursday, 9 a.m. to 3 p.m. plus Friday 9 a.m. to 12 p.m. schedule, with a live performance concluding the week at noon on Friday. School of Rock requests that students bring their own instruments, lunches and snacks.
The Best of the '80s Camp will be the camp to kick off the summer on June 13-17. At this camp, students will perform hits from artists like Billy Idol, Devo, Cyndi Lauper, Van Halen, Flock of Seagulls, and many more. Students will learn and practice songs from the '80s, ending the camp with a show. Recommended for kids aged 7 to 18 who have had some prior instruction.
The Rock 101 Camp is for those who dream of taking the stage with a band. This camp will be offered the weeks of June 20-24, June 27-July 1, July 11-15, and Aug. 1-5. The Rock 101 camp is for students in grades 2 through 6 and does not require previous experience. Through musical games and activities, students will learn about their instruments. The students will work on songs throughout the week, and the camp will conclude with a show for family and friends.
The Beatles Camp is for anyone who wants to celebrate and appreciate The Beatles. The dates for this camp are July 18-22. Students will learn and practice Beatles' songs and finish with a concert at noon on Friday. Kids aged 7-18 who have had musical experience are encouraged to take part in this camp.
The Pop Punk Camp will be offered July 25-29. Pop Punk became a popular genre that dominated the airwaves in the early 1990s. Green Day, Paramore, Blink 182, No Doubt, Offspring, among other bands who will be featured at this camp have come out of it. Following suit with School of Rock's schedule, students will spend Monday through Friday learning and practicing songs, wrapping up a live performance at the end of the week. This camp is great for students 7-18 years of age who have had some previous instruction.
One or a couple of these camps sound like your jam? Sign up for School of Rock Summer Camps to take the first step in following your rock star dreams!
For more information about School of Rock's payment and cancellation policies and deadlines, and other announcements, visit https://www.schoolofrock.com.