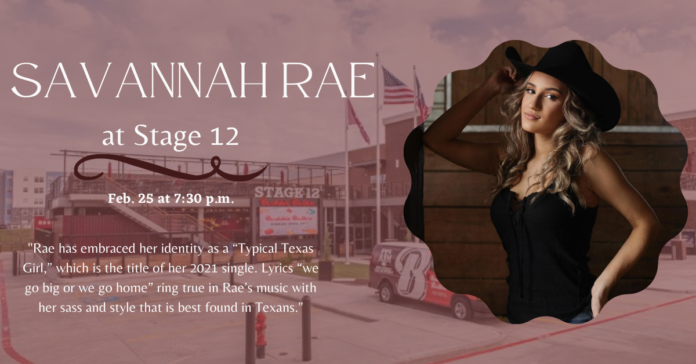 When flavorful food and classic country mix, you get live music at Stage 12. On Feb. 25 at 7:30 p.m. Brookshire Brothers will host country singer songwriter Savannah Rae for some all-American amusement. Opening the evening is special guest Reagan Quinn, who is known for a vintage country sound and aesthetic.
Rae has embraced her identity as a "Typical Texas Girl," which is the title of her 2021 single. Lyrics "we go big or we go home" ring true in Rae's music with her sass and style that is best found in Texans. At 11, Rae enrolled in vocal and guitar lessons at Grammy Award winning Michael Morales' Rockstar Academy. Now, she lives out her childhood dream. Throughout this year, Rae will release several new songs she wrote with Britton Cameron, Holly Lamar and Pam Tillis.
Reagan Quinn's moving lyrics are known for their authenticity, giving them a piercing quality in listeners' hearts. You may remember her by her big blonde curls, Texan passion, and reminiscence of Dolly Parton. With bluegrass and folk undertones, Quinn's music reflects her values to keep true to her roots.
Stage 12 at Brookshire Brothers brings live music every weekend, rain or shine, as well as special events such as last Wednesday's movie night.
Concessions, craft beer and wine and food purchased in Brookshire Brothers is on the menu Friday evening, so come ready to eat well. Doors open at 6:30, show starts at 7:30. You can purchase your tickets for $7 for this all-ages event on Eventbrite.