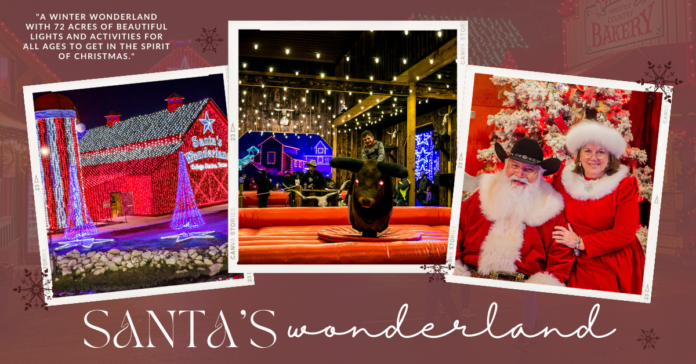 A whole park dedicated to all things Christmas? Say yes! Santa's Wonderland in College Station is its own winter wonderland with 72 acres of beautiful lights and activities for all ages to get in the spirit of Christmas.
Block off an evening this Christmas to fully enjoy all the park has to offer with family or friends.
Don't worry about eating beforehand, as the park has multiple Texas-themed places to choose from. From tex-mex to BBQ, there's something the whole group can enjoy!
After you grab a bite to eat, check out all the activities the park has to offer. With live music, mechanical bull rides, a snow playground, the live nativity scene, a petting zoo, and face painting, you will not go bored!
Although you'll leave the park with a child-like excitement about Christmas, there are activities for all ages. For adults, there's St. Nick's Draw, where you can get craft beer and wine on tap to get you more jolly as you enjoy the park.
For the kids, there're plenty of kid-safe activities, such as the naughty and nice list, where your child can find out if they've been good enough to receive presents from Santa or a stocking full of coal. And of course, you can't do Christmas without the man of the season…Santa! Meet Santa and Mrs Claus for the photo opportunity of the year and the highlight of the night!
Of course, you can't go to Santa's Wonderland without going on the hayride to enjoy all the lights. On the fifteen-minute ride around the park, the over 4 million lights are sure to dazzle. If hayrides aren't your thing, you can upgrade to a more private Horse & Carriage Tour where you and your elves can enjoy the lights in a more magical way.
Whatever you choose to do, you're in for a Texas-sized light show, which means it's bigger and better than anything you've seen before!
Santa's Wonderland is a huge hit every season, so in order to enjoy all the holiday activities the park has to offer, make sure to purchase tickets online for the park and for parking prior to getting to the park. The park will be open until December 30, so make sure to not miss out on this Texas Country Christmas!