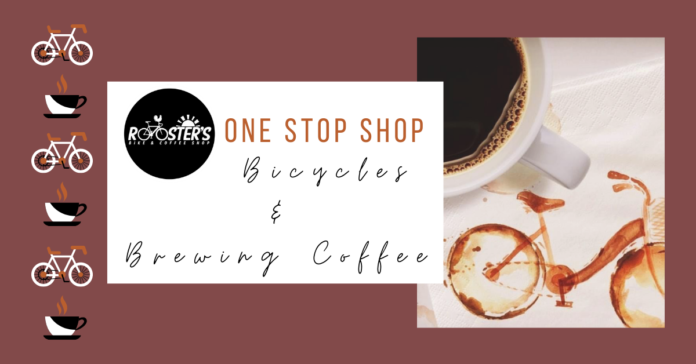 Jason and Penelope Hamilton, owners of Rooster's Bike & Coffee Shop just opened their doors to the public on Oct. 1 of this year. You may be familiar with the shop as it's been here since 1991, formerly known as BCS Bicycles, but the Hamiltons have been working hard to reestablish Rooster's as your local Aggie owned and operated bike shop—and now newly reconfigured a coffee shop too! "We are trying to build a culture that's not so much bike related, but more fellowship related," Penelope says, when asked about what the bike and coffee shop is like. The Hamiltons ultimately want Rooster's to be a place where they can not only serve the community and the students of Texas A&M through more than just bikes and coffee—but to be a place where they can build relationships, too.
The Hamiltons didn't start off in the bikes and coffee business, but they sure are glad to be here now. Jason is the founder and director of Kingdom Ranch, a Christian summer camp for children with special needs, which sits on 60 acres of land about five miles outside of Snook, Texas. Jason got connected to BCS Bikes when he was looking to put in mountain biking trails on the camp property. One thing led to another, and the Hamiltons took over BCS Bikes in January of 2020 and rebranded to Rooster's Bike & Coffee Shop.
Rooster's has family roots that run deep within their business. The Hamilton's three sons Jacob (19), Cody (17), and Andrew (14) all work at Rooster's with their parents. "Cody runs our marketing, and Andrew basically tests out everything from coffee to bikes," Penelope says. In addition to having family behind the counter, it also influences what's on the walls. Much of the decor inside Rooster's once belonged to the Hamiltons' family and friends. Penelope's grandfather crafted a large black rooster about 60 years ago that they hung in the shop for decoration. There's also an antique Coca Cola mirror on display that's been in Jason's family for years. They have artwork donated from past employees and try to decorate with bikes as much as possible.
The family roots don't stop with the decor either! Penelope's father's favorite euphemism is "moose snort… seriously strong," which is how they named their house blend, "Moose Snort Coffee." "It makes my dad feel like he's part of the business, and I love that we're getting to bring in past memories with meaningful art pieces and stories," Penelope reminisces.
Now, students don't need a new bike every day… but what do they need? Coffee! That's how the Hamiltons got the idea to incorporate a coffee shop into their business. Being so close to the university, there's tons of foot traffic from students right by the shop. More importantly, they wanted to create a place where students could come in, get comfortable, and study or grab a coffee with friends. "It seemed like a no brainer to rework that social part back into this world," Jason mentions.
The pandemic has definitely affected the way we commune and spend time together, and the Hamiltons want Rooster's to help restore that back to the community. Though this year has presented its own challenges, the Hamiltons have seen a lot of good come out of it as well. "Most of the local community in BCS was spending a lot more time at home, so they started reaching out to us at the shop to see what outdoor activities they could get involved in. It allowed us to connect with the community again." Rooster's carries bikes that range from those designed for leisure activities all the way up to bikes for mountain terrain and trail biking. "Jason knows a lot about bikes," Penelope adds, "but something I was able to do was make a cheat sheet to help myself learn the different brands and styles of bikes. We give the cheat sheet to customers to help them when they come in—we want to be real with them."
For the Hamilton's, it's not just about buying a bike, it's about customers coming back for repairs, learning more about their bikes, and getting some coffee. It's about building a relationship. "There's no bike we can't or won't work on. Whether it's a freshman student or someone training for a triathlon, we accept everyone," Jason says.
The bike shop has been a big blessing for the Hamiltons. "I knew it would be a great fit for our family," Penelope says, "and being able to do it with each other, we get to spend more time together than ever." Their boys are learning how to work with their hands and are gaining leadership skills, and the business allows them to interact with the community. "But it's more than bikes," Jason adds, "It's also understanding what these students are here for. They have bigger pictures than just needing a bike to get to class—it's being able to serve the fellow Aggies around us."
Rooster's Bike & Coffee Shop is just off University Drive and is within walking distance from Texas A&M's campus- you can see the Zachry building through their windows! They are open from Monday-Saturday from 10 a.m. to 6 p.m. Stop by anytime for bike advice and a cup of coffee!
Sources:
Interview with Jason and Penelope Hamilton