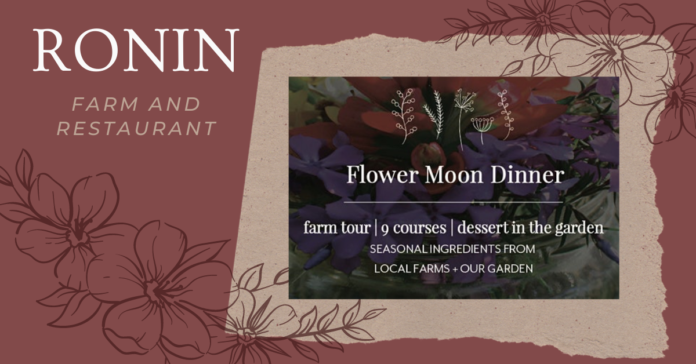 May's full moon means another enchanting dinner hosted at the Ronin Farm! Join them for a nine-course tasting menu inspired by the seasonal ingredients from Ronin's gardens and local farms at the Flower Moon Dinner on Saturday, May 22. The Full Moon Dinners have become so popular that Ronin is hosting them regularly each month now!
After the gates open at 6:30, a tour of the farm's property begins at 7, followed by dinner at 7:30. The first eight courses will be served in the forest, weather permitting. This time of year, there are lots of seasonal wildflowers in bloom on the property that add to the romantic ambiance of the night. Ronin has also planted over ten varieties of edible flowers in their garden, which can be found garnishing the dishes and drinks of the night. The final course of dessert and coffee will be served in Ronin's charming herb garden. It's a fabulous time to be amongst the herbs that made the evening meal.
As a BYO establishment, Ronin invites their guests to bring whatever suits your tastes to drink. If you're in need of a suggestion (or already know Ronin's wine is your favorite), Ronin encourages guests to stop by their restaurant in Downtown Bryan on the way to the Farm to pick up one of their specialty fermentables. They also offer retail sales at 20% off of the restaurant's wine list.
The Flower Moon Dinner will be held at the Ronin Farm in Bryan from 6:30 – 11:30 p.m. on Saturday, May 22. You can purchase tickets online for $140 by following this link. If the Flower Moon Dinner sells out before you can snag a ticket, don't worry! Ronin is hosting the Strawberry Moon Dinner in June. You can visit Ronin's website for updates on these events and more like them.
Sources:
Interview with Ronin