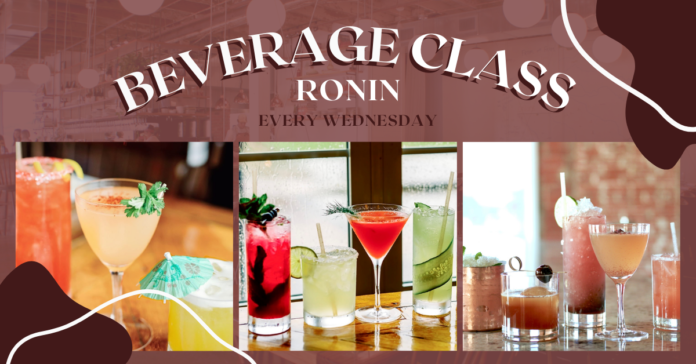 Have you ever wanted to learn the ways of a bartender? Now's your chance with the new Wednesday beverage classes at Ronin! Located in Downtown Bryan, Ronin hosts a number of events for the community that combine great food and drink with just plain having a good time, such as trivia nights, live music, full moon dinners under the stars, and a trivia-slash-College/ NFL football night. So let the beverage classes begin, and join Ronin every Wednesday from Sept. 1 through Dec. 15 for tips, recipes, tastings and more!
Each class features a central theme, starting off with wine for the first five classes—red, white, sparkling and even orange/rosé. Other themes include cocktails, whiskey, and scotch, with several classes featuring tastes appropriate for the season, like the Oct. 20 class, "Fall Craft Cocktails," and the Dec. 15 class, "Holiday Cocktails + More." There's even a class titled "History and Prohibition Cocktails," which is sure to be a fun one.
If you've never been to Ronin, now's the perfect time to be introduced! They grow almost everything they serve right there on the farm, and while that practice makes it local in all the best ways, Ronin is now capturing attention much farther afield. OpenTable, the online restaurant-reservation service for over 60,000 restaurants worldwide, listed Ronin as one of only 11 in its blog article "11 Idyllic Restaurants on Farms for the Ultimate Farm-to-Table Experience."
The Wednesday Beverage Class takes place from 6:30 p.m. – 7:30 p.m. For the full list of classes and themes, click here. Tickets for each class are $20 per person.
Come see for yourself what Ronin has to offer and learn a few new tricks for your own bar!