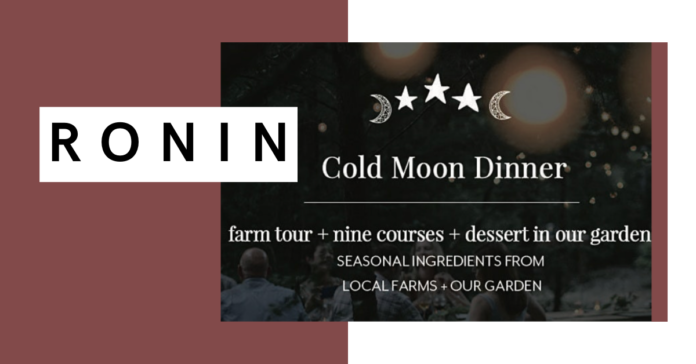 The holiday season continues and Ronin is hosting another one of their specialty dinners, the Cold Moon Dinner, on Saturday, Dec. 19 that celebrates not only the joyful season, but fresh ingredients from local farmers.
Join Ronin for December's full moon and enjoy a nine (that's right, nine) course tasting menu featuring seasonal ingredients from Ronin's gardens and local farms. The night will kick off with the gates opening at 5 p.m., followed by a tour of the beautiful Ronin property at 5:30 p.m. Next, dinner will be served promptly at 6 p.m. and last until 9 p.m. at the Ronin Farm in Bryan.
The quaint forest space located next to the barn that Ronin converted into a commercial kitchen will serve as the dining area for the first portion of the meal. Afterwards, guests will be escorted down a candlelit path to Ronin's garden to enjoy coffee and dessert as the cold moon, the namesake of the dinner, rises into the sky.
Ronin is a "bring your own" establishment and invites guests to bring along whatever drink suits your fancy. They offer 20% off Ronin's restaurant wine list, as it's a great place to stop and pick up your favorite drink on the way to the Farm. Can't decide what might be the perfect drink for the night? Not to worry – the week of the Cold Moon Dinner, the menu with pairing recommendations will be announced based on what is available from local farmers, ranchers, and fisherman. Ronin's unique menu truly is based on what nature has to offer at the time, but they never skimp on the intention put into every dish.
The dinner will still be held rain or shine, moving into one of the barns on the farm if necessary due to rain. Dress is comfortable and casual with closed-toe shoes recommended. Tickets to the Cold Moon Dinner can be purchased for $135 per person here, which includes the farm tour, nine course dinner, and dessert in the garden. It's the perfect early Christmas gift, to celebrate a special occasion, or just a well-deserved night out.
To learn more, visit Ronin's website.
Sources: